Blessed Diego Luis de San Vitores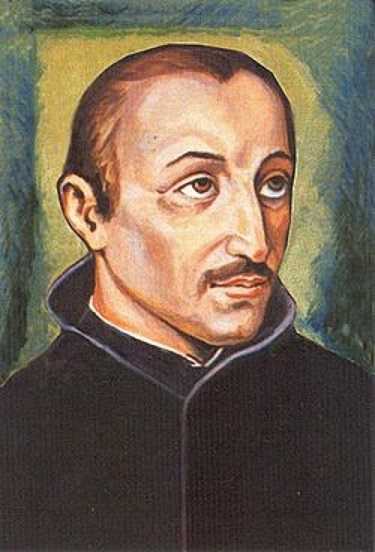 Priest, Missionary, Martyr
November 12, 1627 - April 2, 1672
Feastday: October 6
Diego Luis de San Vitores was a Spanish Jesuit missionary who founded the first Catholic church on Guam; one of the Mariana Islands. Because of him the Spanish settled on these Islands.
He was a son of a nobleman, Don Jerónimo de San Vitores, born on November 12, 1627 in the city of Burgos, Spain. His mother was Doña María Alonso Maluenda and he was baptised Diego Jerónimo de San Vitores y Alonso de Maluendo. His parents wanted him to pursue a military career, but San Vitores chose to pursue his religious interests instead. He entered the Jesuit novitiate in 1640 and became a priest in 1651. He later got permission to go on a mission to the Philippines as a missionary. In 1662, on his way to to the Philippines he stopped in Guam and vowed to return. Three years later, he persuaded King Philip IV of Spain and Queen Maria Ana of Austria to establish a mission in Guam. In 1668, San Vitores set sail from Acapulco to Guam. San Vitores named the Chamorro archipelago, "Islas Marianas" (Mariana Islands) in honour of the Queen Regent of Spain, Maria Ana of Austria, and the Blessed Virgin Mary. The missionary landed on Guam in the village of Hagåtña and was greeted by Chief Kepuha. Kepuha's family donated land to establish the first Catholic mission on Guam. On February 2, 1669 San Vitores established the first Catholic Church in Hagåtña and dedicated it to the sweet name of Mary, "Dulce Nombre de Maria."
After Chief Kepuha's death in 1669, Spanish missionary and Chamorro Nobility relations worsened and the Chamorro - Spanish War began in 1671 led by Chief Hurao. After several attacks on the Spanish mission, a peace was negotiated. Though San Vitores chose to emulate Saint Francis Xavier, who did not use soldiers in his missionization efforts in India, as his model priest, he recognized that a military presence would be necessary to protect the priests serving Guam. In 1672, San Vitores ordered Churches built in four villages, including Merizo.
How he became a Martyr
In 1672 a criminal from Manila, a Chamorro named Choco, who was exiled in Guam began spreading rumours that the baptismal water used by missionaries was poisonous. As some sickly Chamorro infants who were baptized actually died, many believed the story and held the missionaries responsible. Both the macanjas (medicine men) and the urritaos (young males), who despised the missionaries, supported Choco. In their search for a runaway companion named Esteban, San Vitores and his Visayan companion Pedro Calungsod came to the village of Tumon, Guam on 2 April 1672. There they wanted to baptise the child of the wife of the village chief Matapang, who had given birth to a daughter. Influenced by the slander of Choco, the chief strongly opposed, but to give Matapang some time to calm down, the missionaries gathered the children and some adults of the village at the nearby shore and started chanting with them the tenets of the Catholic religion. They invited Matapang to join them, but he shouted back that he was fed up with Christian teachings and angry with God.
Matapang went away and tried to enlist another villager, named Hurao, who was not a Christian to make a plan to kill the missionaries. Hurao initially refused as the missionaries were very kind towards the natives, but when Matapang called him a coward, he capitulated. Meanwhile, during the absence of Matapang, San Vitores and Calungsod baptised the baby girl, with the consent of her Christian mother.
When Matapang heard about his daughter's baptism, he became even more furious. He violently threw spears at Pedro. Witnesses say that Pedro could have escaped the attack, but he did not want to leave San Vitores. Those who knew Pedro knew that he easily could have defeated the aggressors by using weapons. San Vitores however banned his companions to carry arms. Pedro was hit in the chest by a spear and he fell to the ground, then Hurao immediately charged towards him and finished him off with machete blow to the head. San Vitores managed to absolve Perdro before he too was killed.
Matapang took San Vitores' crucifix and hit it with a stone whilst taking the Lord's name in vain. Both assassins then uncovered the corpses of Pedro and San Vitores, tied large stones to their legs and brought them out to sea on their proas and threw them into the water.
The death of the Spanish mission leader led to Spanish army reprisals against Chamorro chiefs who had decided to defend their power from Spanish subjugation. Bounties were offered for these chiefs and many were hunted down. Under Spanish military governors, Chamorros who were anti-Spanish were massacred in their villages. European plague and warfare eventually contributed to the defeat of the anti-Spanish Chamorros. The Chamorro - Spanish Wars lasted more than 25 years.
The San Vitores Martyrdom Site is listed on the U.S. National Register of Historic Places.