Pope Benedict XVI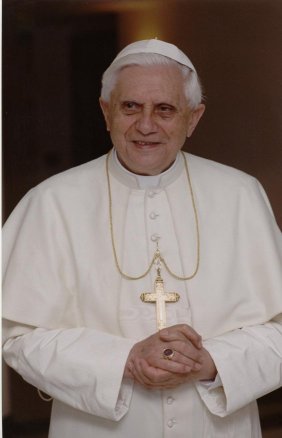 1927 -

Joseph Alois Ratzinger was born on April 16, 1927 on Holy Saturday in Marktl am Inn, regio Altötting in Bavaria, Germany. He was the son of Joseph Ratzinger, police officer and Maria Peintner. His father was anti-Nazi. His family was always devoutly Catholic. In 1939, at the age of 12, he entered the minor seminary in Traunstein, his first step toward the priesthood.
He enrolled and served in the Hitler Youth, a Nazi Youth organization at the age of fourteen. This was a mandatory membership for all German high school students during that time period (1939-1945). Joseph Ratzinger deserted the army in 1944 showing his disdain for Nazism. In 1945 he re-entered the seminary. He studied philosophy and theology at the University of Munich and at Freising from 1946 to 1951. On June 29, 1951, he was ordained by Cardinal Faulhaber of Munich, in the Cathedral at Freising.
Joseph Ratzinger spent much of his career as a theology professor at universities in Germany. He was named Archbishop of Munich and Freising March 24, 1977, and made a cardinal by Pope Paul VI, June 27, 1977. In 1981, Ratzinger was named Prefect of the Congregation for the Doctrine of the Faith, the organization which until 1965 had been called the Holy Office of the Inquisition, making him Grand Inquisitor.
He resigned the Munich archdiocese in early 1982. Already a cardinal priest, he was raised to Cardinal Bishop of Velletri-Segni in 1993. He became vice-dean of the College of Cardinals in 1998, and dean in 2002. On April 19, 2005 Cardinal Ratzinger was elected as the successor to Pope John Paul II on the second day of the papal conclave after four ballots. Cardinal Ratzinger had hoped to retire peacefully and said that "At a certain point, I prayed to God 'please don't do this to me'...Evidently, this time He didn't listen to me."
At the balcony, Benedict's first words to the crowd, before he gave the traditional Urbi et Orbi blessing, were:
Dear brothers and sisters, after the great Pope John Paul II, the Cardinals have elected me, a simple and humble labourer in the vineyard of the Lord.
The fact that the Lord knows how to work and to act even with inadequate instruments comforts me, and above all I entrust myself to your prayers.
In the joy of the Risen Lord, let us move forward, confident of his unfailing help. The Lord will help us and Mary, his Most Holy Mother, will be on our side. Thank you.
The choice of the name Benedict (Latin "the blessed") is significant. Benedict XVI used his first General Audience in St. Peter's Square, on April 27, 2005, to explain to the world on why he chose the name:
Filled with sentiments of awe and thanksgiving, I wish to speak of why I chose the name Benedict. Firstly, I remember Pope Benedict XV, that courageous prophet of peace, who guided the Church through turbulent times of war. In his footsteps I place my ministry in the service of reconciliation and harmony between peoples.
Additionally, I recall Saint Benedict of Norcia, co-patron of Europe, whose life evokes the Christian roots of Europe. I ask him to help us all to hold firm to the centrality of Christ in our Christian life: May Christ always take first place in our thoughts and actions!
Latest news:
Pope Benedict XVI Says He Will Resign
New York Times - February 11, 2013
ROME — Citing advanced years and infirmity, Pope Benedict XVI stunned the Roman Catholic world on Monday by saying that he would resign on Feb. 28 after less than eight years in office, the first pope to do so in six centuries. In the period between the resignation and the election of the new pope, Cardinal Tarcisio Bertone, currently Benedict's Secretary of State, will act as a caretaker leader of the church.
Pope Benedict XVI arrived by helicopter Thursday February 28, 2013, at Castel Gandolfo near Rome shortly before he officially resigns his eight-year papacy at 1900 GMT. The helicopter arrived at 1624 GMT at the lakeside town where he will reside in the summer papal palace for the first two months of his retirement.
Prayer for Pope Benedict XVI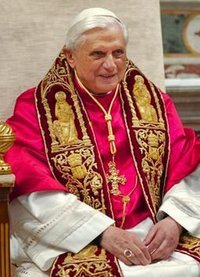 Please pray for Pope Benedict XVI to be a great leader and follow the will of God.
Please Lord give Pope Benedict XVI wisdom, guidance, and love so he can be a good shepard for Your people. Let the Holy Spirit provide him with a caring and wise heart. Give him courage to always make the right decision. Help him to steer the Roman Catholic Church in the right direction. We ask these things through Jesus Christ, Our Lord, who lives and reigns with You and the Holy Spirit, One God forever and ever.
Amen.