Violet and Yellow Scapular of Saint Joseph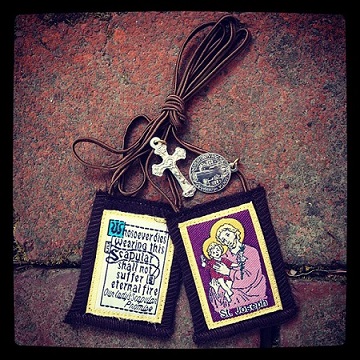 The Violet and Yellow Scapular
The Scapular of Saint Joseph is a Roman Catholic devotional scapular that traces its roots to the Order of Friars Minor Capuchin in St. Claude in France and was initially in white. It was later approved for the Diocese of Verona by the Congregation of Rites in 1880.
This scapular was approved for the Diocese of Verona by a Decree of the Congregation of Rites of 8 July, 1880. On 15 April, 1898, Leo XIII granted to the General of the Capuchins the faculty of blessing and investing the faithful everywhere with this scapular. From the Diocese of St-Claude in France this scapular (at first white) was spread by the Capuchins; but it was later decreed that the shape and colour of that used in Verona should be used.
Due to the multiple sources for the scapular, the colors may be in combination, having white, gold and purple. The front of the scapular depicts St Joseph carrying the infant Jesus, and a lily in the other hand. The back panel features the Papal Arms, a dove (to symbolize the Holy Ghost) and a Cross.
Various indulgences have been granted for all the faithful who wear it by a Rescript of the Congregation of Indulgences, 8 June 1893 ("Acta S. Sedis", XXXIV, 317).