Our Lady of Good of Health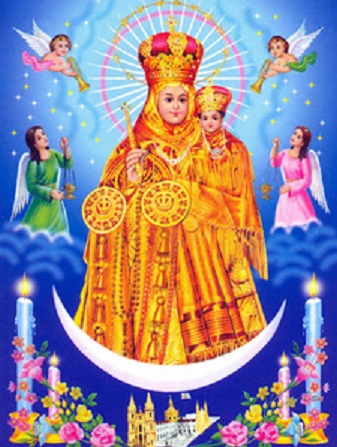 Vailankanni, India (ca. 1550)
Feast day: September 8
There are three major events associated with Our Lady of Good of Health in Vailankanni. The Virgin Mary is said by tradition to have appeared to a shephered boy named Tamil Krishnannesti Sankaranaranayam who offered her child milk. She is subsequently said to have appeared to and healed a crippled boy selling buttermilk. A group of Portuguese sailors attribute being saved from a violent storm to her intercession. They constructed a larger chapel at their landing spot in Vailankanni.
Basilica of Our Lady of Good Health
Velankanni is home to one of the country's biggest Catholic pilgrimage centres. The Catholic Basilica devoted to Our Lady of Good Health is popularly known as the "Lourdes of the East". The origins of this church can be traced back to the 16th century and its founding is attributed to three miracles: the apparition of Mary and Jesus to a slumbering shepherd boy, the curing of a lame buttermilk vendor, and the survival of Portuguese sailors assaulted by a violent sea storm. It is built in the Gothic style, was modified by Portuguese and then further expanded later on due to the influx of pilgrims. The church building was raised to the status of basilica in 1962 by Pope John XXIII.
Annually, 20 million pilgrims flock to the shrine from all over India and abroad, out which an estimated 3 million people visit the shrine during its annual festival from 29 August to 8 September. The 11-day annual festival concludes with the celebration of the Feast of the Nativity of Mary on 8 September.
HISTORY – AN BEGINNING:
St. Francis Xavier Church, Pallavaram is mother parish of our church. When Rev. Fr. Joseph Kottur been an Parish priest ofPallavaram during the year 1965 he have purchased the land in Polichalur to build the church for Our Lady of Health.
Opposite to Polichalur Bus Terminus,
Kalaignar Street, MGR Nagar,
Polichalur,
Chennai – 600 074,
Tamil Nadu, INDIA.