Unterflossing (Germany)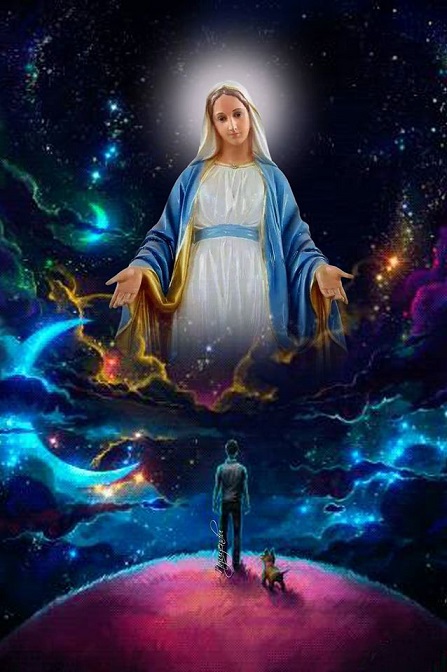 Unterflossing (D) September 10, 2017
"The Mother of God loves Austria and Germany"
Saturday September 9 at 4.30 pm the time would have come: The Mother of God would appear. Not in Lourdes, not even in Fatima – no, in Unterflossing, a village with 100 inhabitants in Bavaria. An Italian seer announced that, the Bavarian public broadcaster BR was present live.
The Italian seer says he has had a Marian apparition in this village before. Last March to be exact, about 300 believers came to Unterflossing at the time.
Gläubige warteten am 10. September 2017 auf die Marienerscheinung in Unterflossing (Lkr. Mühldorf) | Image: BR/Hans Häuser
This weekend there were twice as many.
Three more hours until the announced apparition at 4:30 p.m. In the Sankt Laurentius Chapel, believers pray the Rosary, on the lawn in front of the chapel, numerous spectators take place on their folding chairs. "I am already – not excited – but have such an inner joy." says a waiting visitor.
Coaches drive back and forth, interested people come from all over the area, even from Austria and all parts of Germany.
Mayor is skeptical
But not everyone is convinced of an imminent miracle. Lorenz Kronberger, the mayor of Polling, which includes the village of Unterflossing.
"I am a deeply religious person and never doubt my faith, but this Marian apparition is not mine."
Mayor Lorenz Kronberger said
One hour until the apparition, the nerves come to Otto Masszi. He is organist at the church. He played the organ during the Rosary and Holy Mass in the Chapel, now he comes out sweaty.
"Yes, it is exhausting. We even forgot to ring the bell because of the excitement of all of us, but surely the Mother of God will forgive us?"
Otto Masszi
Inexplicable: Maria's rose scent suddenly hangs in the air
Masszi also arranged for the Italian seer Salvatore Caputo to come to Unterflossing. Last March, the Blessed Virgin appeared to him. A large audience was present at the time.
"At that time when the Mother of God appeared, there was an inexplicable rose scent. - The hundreds of people present cannot explain the rose scent, to this day."
Then suddenly he stands in front of the Chapel: seer Salvatore Caputo. Dozens of people stand around him, he personally blesses everyone. And during the blessing comes that inexplicable rose scent again.
The Diocese is sceptical. Not that a swindler is at work here, who put words in the mouth of the Mother of God, which are at odds with Catholic teaching. The Archdiocese of Munich and Freising has sent an observer who stands at a distance and watches sternly. He does not want to give a public explanation to the press.
The miracle of Mary is not felt by everyone
It's 4:26 PM. Salvatore Caputo prepares, but the statue of the Virgin Mary is missing. The image is quickly taken. It gets quiet, just a few camera clicks. Caputo looks to Heaven, kneels down. He kneels for a few minutes, then he looks up again, he receives a message. Caputo's eyes are wide open – it's over. Was that the Mother of God?
"I have not seen her. Felt? Yes! Now I'm doing better. – A shudder went through my body incessantly. – It felt like Heaven on Earth. One does not need to know everything, one must have faith and faith.
Unterflossing the new Altötting?
Half an hour later, Caputo, together with an interpreter, tells what Saint Mary told him. She wishes for peace on earth. and:
"The Mother of God loves us all. She loves Austria and Germany."
The people leave the village. The mayor is still present. His skepticism has remained. But he also has a vision:
"I thought, the pilgrimage site of Altötting also started small 500 years ago, and who knows what will be in Unterflossing in 500 years?"
Mayor Lorenz Kronberger
With thanks to the editors of the Maria-bode (Emmen) for permission to publish this apparition.