Therese Neumann von Konnersreuth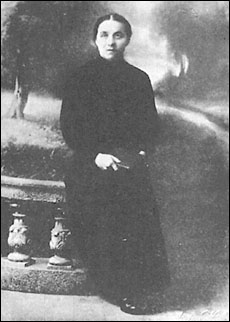 Mystic and Stigmatist
April 8, 1898 - September 18, 1962
Therese Neumann was born on April 8, 1898, during the night of Good Friday/Holy Saturday in Konnersreuth in Bavaria (Oberpfalz) Germany. She was the first child of 11 of Ferdinand Neumann, a tailor, and his wife Anna Grillmeier. As it was the custom, soon after birth, she was baptized, on Easter Sunday, April 10, 1898, in the parish church St. Laurentius in Konnersreuth. Therese grew up in a modest home. Work in the house was a main task. There was not much of an opportunity for children's play, because each of the children had to do some work on the small farm or in the tailor´s shop, according to their strength and ability. The parents raised their children consistently Christian. She attended elementary school from 1904 - 1911. She was known as a diligent and good pupil.
The small income of the parents made it necessary for the children to earn some money for the daily living of the family, as soon as possible. For that reason, Therese worked already in the afternoons during the last half year of Elementary school (1910-11) in the Castle of Fockenfeld. By age 14 (1912) she worked full time as a maid on a rather large property in Konnersreuth. Therefore, during the years 1911 - 1914, she attended only Sunday school. According to her final report card, she earned good and very good grades for the subjects of Religion, Science, Reading, Arithmetic, Essay and Penmanship. Therese was an intelligent and healthy child. During her school years, nothing extraordinary was noticed. She was known for her cheerful mind and showed great responsibility at an early age. On July 12, 1908, she was confirmed by the Bishop Antonius von Henle in Waldsassen. On April 18, 1909, she received First Holy Communion.
At the age of fifteen Therese began thinking about becoming a missionary Sister to Africa. But in 1914, the First World War prevented her entry into that Order. When her father was drafted in 1914, she promised her parents to postpone entering the convent until her father returned from the war. Because the owner of the estate was drafted to serve in World War I, Therese took over the position of the head-servant. Because she was physically very strong, the work on the farm and in the fields went well. She loved plants and animals, the change of seasons as well as natural events. As a soldier on leave in World War I, her father came home and brought a devotional picture of the French Therese of Lisieux (Thérèse Martin) of the Carmelite Order for his daughter. At age 16, Therese Neumann became interested in the biography of "Little Therese", venerated her and prayed for her beatification.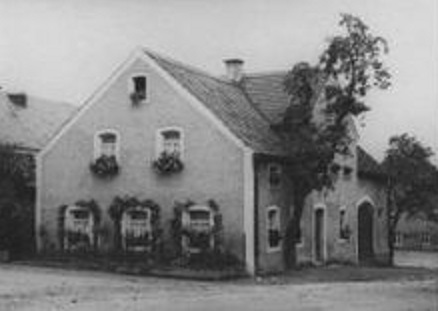 Place of Birth Therese Neumann
In 1918 a tragic injury changed her life. During a fire, Therese was helping to pass buckets of water to put it out when she injured her back. This injury led her to fall uncontrollably to the ground on succeeding days. These falls brought on paralysis and blindness. She developed pneumonia, digestive problems, abscesses formed in her ears causing a loss of hearing and bed sores developed. These physical sufferings continued for six years until she developed appendicitis. Her family and doctors expected imminent death.
She miraculously regained her sight in 1923 through prayers to St. Teresa, "The Little Flower." Later Therese Neumann's limbs were instantaneously healed. From 1923 onward, Therese has abstained completely from food and drink, except for the daily swallowing of one small consecrated wafer. February 16, 1926 was a new decisive turning point in Therese's life. She fell ill again, in addition, an ear abscess developed, and at times bloody water and pus trickled out of her eyes. Often the pain gave her sleepless nights, i.e. on the night of Thursday/Friday March 4/5, 1926 she couldn't sleep. Suddenly, she had a vision. She saw Jesus kneeling in the Garden of Gethsemane. At the same time, she experienced a pain on the left side of her breast, of such intensity that she thought she would die. Then blood started to run down from this place. The trickling of blood lasted until the next midday.
The other signs of illness remained. The ear abscess broke open on Holy Saturday, but she was bedridden until 1927. On the night of Thursday she had a second vision - substantially the same, yet extended by the scene of the scourging of Jesus. On the following Friday, March 19, 1926, she saw also the crown of thorns put on, and on Friday, March 26, 1926, the carrying of the Cross and the fall under the Cross. On Good Friday, April 02, 1926, she saw the complete Passion, and in the early morning of Easter, the Resurrection of Christ. The visions were accompanied by blood-wounds, which appeared not only in the heart area, but by the end of the year, in all places of the wounds of Christ, the Stigmata.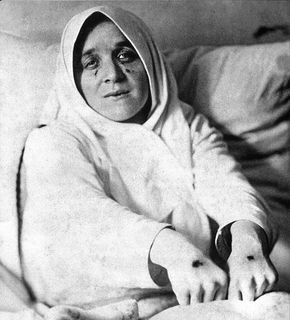 Therese had this vision of the Passion again and again until her death, during 36 years each time in over 30 separate visions every Friday, except on those Fridays from Christmas to Lent, Easter to the Feast of the Sacred Heart and on any Fridays which coincided with a high feast or an octave of a feast. During her visions, her eyes, heart and head bled; during Lent, her hands, feet, knees and right shoulder also bled...on Good Friday, bleeding would occur on her chest and back too. The Stigmata on her heart, hands and feet stayed visible, but never became inflamed or festering ...unless a remedy was applied.
All these occurrences around Therese could not be kept in a private sphere. The interest of the public was aroused. Especially on Fridays, large crowds of visitors would come. The Bishop of Regensburg, Antonius von Henle, had been very cautious concerning the occurrences in Konnersreuth. Public discussions got stormier all the time, so the Bavarian Conference of Bishops decided to get a scientific basis for the philosophical-theological examination of the phenomenon. By order of the Diocesan Authorities, Therese had to undergo medical observation from July 14 - 28, 1927, headed by Dr. Seidl from Waldsassen and Prof. Dr. Ewald from Erlangen. Especially the phenomenon of living without taking any food should be watched and scrutinized by checking her weight, temperature, pulse frequency, and laboratory examinations of her secretions and blood. Four sworn in nurses watched over Therese around the clock, following strict orders of the two Doctors. To check the process, the Doctors themselves came in from time to time, without prior notice. The results of the examinations verified, that "in spite of the intense observation ... not even this could be observed, that Therese Neumann, who was not a second alone, ate anything..."
In October 1927, the Bavarian Conference of Bishops passed a resolution concerning Therese Neumann, to admonish the public "not to form a final judgment on the matter of Konnersreuth, until the Church Authority had decided about this case, and to refrain from visits." The Diocesan Authorities explained in a circular letter "Oberhirtliches Verordnungsblatt" for the Diocese of Regensburg, no. 10, 1927, the necessity for this decision: "This decision was necessary to prevent something like a pilgrimage, even before the basis for this has the attestation of the Church; but even more so, to keep evil-minded people away, who refer to their personal visit in Konnersreut and disseminate untrue reports,... false information, blaspheme all that is supernatural and holy". Furthermore, in this report the process and the results of the fifteen days of strict watch were made known. Referring to the investigational examination it was verified, that not the smallest amount of food had been taken. After this decision of the Diocese, a written permission of the Diocese was required to enter the house of the Neumann family. But even this step could not stop the crowds, so it was given up.
When the National Socialists came to power between 1933 and 1945, a difficult time of plight began for Therese. The National Socialistic Press published sarcastic articles about her person all over Germany. State authorities never missed a chance to put her to shame, cause her inconvenience or threaten her with prosecution or arrest. However, she never had to take any physical reprisal. She made no secret of the fact, that she rejected the political course and the person of Hitler. After Word War II had ended, crowds of visitors came again, among them many American soldiers. Over the years, many people received help, advice and comfort. Many found their faith anew or their faith was strenghtend. Although she never wanted to be the centre of publicity, she did not withdraw from visitors. People lusting for sensation, however, met a harsh rejection from Therese. The visitors were a burden to the Neumann family; it meant considerable restrictions in their daily life. Despite of all this, they continued to live a simple life. Also, the place Konnersreuth was nothing but a village, it did not take advantage of the situation for a profitable tourist attraction.
Therese died on September 18, 1962, after she had suffered from Angina Pectoris for some time. Before she was burried on September 22, 1962, four medical Doctors examinated the corpse und verified, that, even 4 days after death, no rigidity of death (rigor mortis) and no cadaverous smell could be noticed. The corpse was so flexible that some feared an apparent death (suspended animation). Up to this day, many people honour Therese and visit her grave. The Rectory of Konnersreuth alone has received over 40.000 motions from around the world, calling for her Beatification.
Therese has been venerated since her death, her life was obviously virtuous and many miracles have occured during her life time and since her death. Countless people wish her saintliness to be authorized by the Church. Alone to the Rectory of Konnersreuth, more than 40.000 motions have been submitted for a process of Beatification, coming from all over the world. In 2005, Gerhard Ludwig Müller, Bishop of Regensburg, formally opened the proceedings for her beatification.
Prayer to Therese Neumann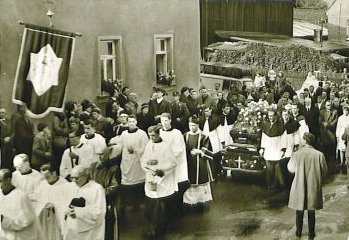 Most loving servant of God,
Therese, we humbly ask for many prayers and favors for ALL of us who are God's little children.
Please ask Jesus, our Most loving Savior, Divine Mercy and Most Sacred Heart, to hear us crying out in our vale of tears.
We ask you, Therese to pray for spiritual sight, touch, taste, smell and hearing for us, so that we will desire our God as He is calling us to Love as He loves us. Please ask for help on our behalf,
we who are poor banished children of Eve. Pray for us, dear sweet sister, Therese, who suffered in joy in Jesus's Name, while on this earth. We ask you these favors in the Name of Jesus Christ, our Loving Lord.
Amen.
For information on joining the Konnersreuth Circle reg. Assoc. please contact:

Mr. Maximillian Solch
Lanzenweg 5
D-95692 Konnersreuth
Germany