The Assumption of the Blessed Virgin Mary

August 15
Scripture does not give an account of Mary's Assumption into heaven. Nevertheless, Revelation 12 speaks of a woman who is caught up in the battle between good and evil. Belief that Mary, without dying or shortly after death, has been taken up into Heaven with her body and her soul has been part of the teaching of the Catholic Church since the earliest centuries of Christianity. That early Christian believed in Mary's Assumption is proven in the lack of her relics, empty tombs, the existence of Transitus Mariae stories, and quotes from early Christians.
The Assumption became a feast day celebrated by the Church every year on August 15. What it brings to mind is the height to which the Church has elevated this special woman. The teaching that, at the end of her earthly course, Mary was assumed into heavenly glory, body and soul, was dogmatically defined by Pius XII on November 1, 1950 in Munificentissimus Deus. More than 500.000 people were packed into Saint Peter's Square that day.
Mary's passage into Heaven is called the "Assumption of the Blessed Virgin Mary" (Assumptio Beatae Mariae Virginis). The Assumption of Mary has two purposes. The first is that we celebrate the happy departure of Mary from this physical life on Earth. The second purpose is the assumption of her body into Heaven. We firmly believe that from the first moment of her conception Mary was free of all sin, including Original Sin, by a special favor of almighty God. The Archangel Gabriel recognized her as "full of grace," "blessed among women" and "one with the Lord."
Finally when she was 59 years old, Mary died A.D. 48. She had enough time to say goodbye to all the apostles before she died. The grieving apostles took her body to a tomb near the one that Jesus was laid in. They covered her with a white shroud and laid her to rest in the tomb. But Mary's body didn't stay there. Jesus came to her and took her body and soul into heaven to be with Him.
We do not know for sure the place or circumstances of the death of Virgin Mary. One tradition attests that she died in Jerusalem. Another tradition points to the city of Ephesus, where she is said to have lived for a short time prior to her death. The bible does not inform us about the circumstances of the death of the mother of Jesus. The stories about it took shape in the first centuries after her death and focussed on three events: her deathbed (Dormition), her body being carried to heaven by angels.
Prayer for the Assumption of Mary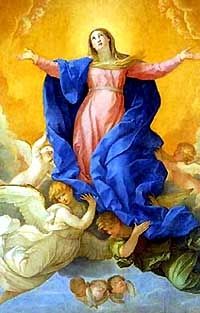 O Divine Father, the Blessed Virgin was conceived pure in body in order to carry Your Son in her womb, and when her life on earth ended, You gave her a glorified body and raised her directly into Heaven. I ask her to pray for my attitudes regarding my physical health; may I appreciate the body You gave me while overcoming the passions of the flesh. Stop me from destroying this temple of the Holy Spirit through laziness, harmful habits, addictions, and impurities, so that at my death my own body will be better prepared to receive its Heavenly reward. Holy Mary, pray for me now and at the hour of my death.
Amen.