Saint Teresa Jornet e Ibars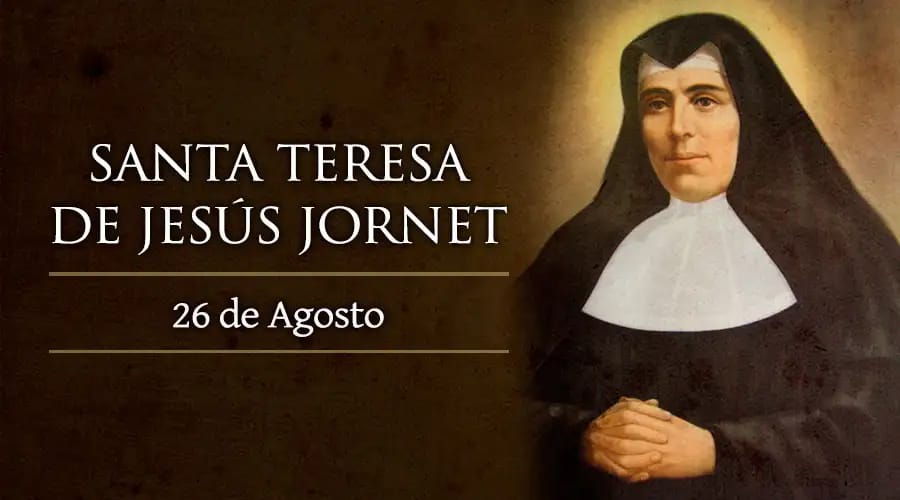 Feastday: August 26
Also Known As: Teresa de Jesus Jornet e Ibars
Teresa de Jesús Jornet e Ibars was born on January 9, 1843 in Aitona (province: Lleida) in Spain, into a deeply Christian peasant family. She studied education and worked for some time as a national teacher in Argensola (Barcelona).
In 1868 she entered the Monastery of Santa Clara, an old convent of Poor Clare nuns in the town of Briviesca (Burgos, Castilla y León, Spain), from which she had to leave shortly afterwards for health reasons (1870). For some years she received the spiritual influence of her uncle, Father Francisco de Jesús María y José Palau y Quer, a Discalced Carmelite, zealous missionary, great contemplative and militant apologist, creator of several educational institutions. Teresa worked for some time in Father Palau's schools without devoting herself to religious life and stopped doing these activities. Shortly afterwards, in 1872, Father Palau died.
Provident circumstances decided her life, in the same year 1872 in Barbastro (Huesca) she entered into an informal relationship with a zealous priest, D. Pedro Llacera, who informed her of the foundation plans in favor of the helpless elderly. Teresa saw the way of her life open and immediately offered to participate in such a charitable venture and joined the first candidates of the new institute founded in Barbastro on October 3, 1872: a few days later she became appointed provisional superior of that group by the Capitular Vicar of the Diocese. She is the founder of the famous little sisters of the homeless elderly.
After the Foundation was transferred to Valencia, Teresa was confirmed in her position as General Director by Archbishop Monsignor Mariano Barrio Fernández (May 10, 1875). She made her first profession on November 29, 1874 and made her perpetual vows on December 8, 1877.
The Archbishop of Valencia Mons. Antolín Monescillo (January 31, 1878) renewed the appointment of general manager. In 1887 she was elected Superior General of the Institute, in accordance with the Constitutions approved by the Holy See, for a term of nine years, presumed to remain in office beyond this period, confirming her in a such designation by the Holy See (July 14, 1896) for another nine-year term, which it could not complete.
She died a holy death in Liria (Valencia) on August 26, 1897, leaving 103 homes of his congregation in full activity in Spain and America. She had accepted 1,260 little sisters into the congregation, many of whom had expected her in death.
Her remains were transferred to Valencia, to the motherhouse of the congregation, and are the object of fervent adoration. She was beatified by Pius XII on April 27, 1958 and canonized on January 27, 1974 by Paul VI, who on this occasion delivered a homily glorifying the value of her holiness and her vocation in favor of the helpless elderly.