Solemnity of Mary, Mother of God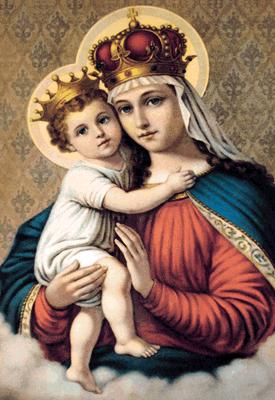 January 1
On New Year's Day, the octave day of Christmas, the Church celebrates the Solemnity of the Holy Mother of God, the divine and virginal motherhood of the Blessed Virgin.
It is the highest title of the Blessed Virgin Mary: Theotokos, Mother of God. This title was given to Mary at the Council of Ephesus in 431 A.D. The council taught, however, that the humanity and divinity of Jesus could not be separated and that they exist in one person, with the momentous implication that we can rightly give Mary the title of Mother of God. Mothers bring life, a gift from God, into the world. That's why you sometimes hear the Church referred to as "Mother". The Evangelist, Luke, describes her as the silent Virgin who listens constantly to the Eternal Word, who lives in the Word of God.
This feast is the celebration of Mary's motherhood of Jesus and is the oldest feast of Mary celebrated by the Catholic Church. Mary has an important role to play in the Incarnation of the Second Person of the Blessed Trinity. She consents to God's invitation conveyed by the angel (Luke 1:26-38).
Elizabeth proclaims: "Most blessed are you among women and blessed is the fruit of your womb. And how does this happen to me, that the mother of my Lord should come to me? For at the moment the sound of your greeting reached my ears, the infant in my womb leaped for joy.
Blessed are you who believed that what was spoken to you by the Lord would be fulfilled." And Mary said: "My soul proclaims the greatness of the Lord; my spirit rejoices in God, my Savior.
Mary, Mother of God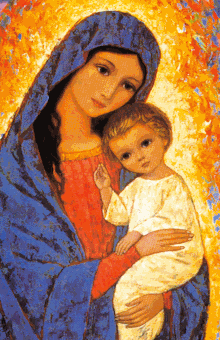 Heavenly Father, You blessed the Virgin Mary with the fullness of grace. She is my model of faith, hope, and love. I give this new year to her intercession and ask for her holy prayers. Place my needs into the protection of her motherly love. With her help, I want my faith to grow. Give me an increase in the virtue of hope when troubles tempt me to despair. Guide me in understanding Your infinite love. And join my heart, dear Lord, to the Holy Mother's Immaculate Heart, so that I may improve in loving everyone unconditionally, in imitation of my Savior, Jesus.
Amen.
Prayer for the Feast of Mary, Mother of God
Father, Source of Light in every age, the Virgin conceived and bore Your Son who is called Wonderful God, Prince of Peace. May her prayer, the gift of a mother's love, be Your people's joy through all ages. May her response, born of a humble heart, draw Your Spirit to rest on Your people. Grant this through Christ, Oour Lord.
Amen.