San Damiano (Italy)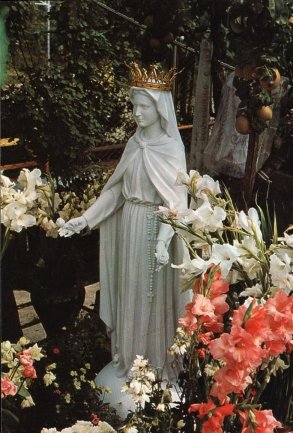 Mama Rosa, 1961-1981

San Damiano is a small village with approximately 150 residents. Anybody going there by train gets on the train at Milan heading for Bologna-Bologna until they reach Piacenza where they will, nearly always find a taxi waiting to take them to San Damiano. Rosa Quattrini-Buzzini, born on the 26th of January 1909 was the lady who saw the visions here at San Damiano. She was a widow, seriously ill and nearly dying. Her Aunty Adele took care of her. On the feast day of Holy Archangel Michael on the 29th of September 1961, at the end of the morning, an unknown woman wearing a sky blue shawl over her head knocked on Rosa's door and requested money for Father Pio. Whilst mama Rosa only had 1.000 loaned lire in her house, she gave the woman 500 lire. The lady asked: " Do you belief in father Pio?" mama Rosa said, "Yes! And I really trust him". They then prayed together five Our Fathers, five Hail Mary's and five Glory Be's for Father Pios intentions and the five Blessed Wounds of Jesus Christ. During this period the lady touched mama Rosa' wounds. Once the lady had departed, Aunt Adele went to her room and looking at the statue of Our Blessed Lady. She said: "Dearly beloved Madonna please ensure that Father Pio receives that 500 Lire?"Then she heard a strong voice, which was undoubtedly that of Father Pio: "Believe and trust! mama Rosa shall be healed". Going into the kitchen, Aunty Adele was extremely surprised to see mama Rosa doing the dishes. Aunty, mama Rosa called: "I have been healed". At that exact moment both women believed that Our Blessed Mother has personally visited them.
In the spring of 1962 mama Rosa was on a pilgrimage to Giovanni Rotondo in Foggia. Father Pio a stigmatised Capucijn Father lived here in a monastery. He was known world wide as a father confessor. One saw daily thick, long queues of people waiting to confess to the very special Priest, with the gift of looking into people's hearts. Whilst he was very much to the point, often seeming hard and relentless. He was also renowned for his friendliness, kindness and warmth towards all. mama Rosa was standing outside the church saying the rosary, when she suddenly heard someone speak to her: "Rosa, Rosa!" she turned around to see the woman with the sky blue veil, who said": "Do you recognize me?" Rosa answered, "Yes, You are Madonna Who healed me". "I am the Mother of Comfort and of the sadden. Say this in San Damiano and to the professor who will not believe you are healed. After Holy Mass we shall see each other again and I shall lead you to Father Pio". When mama Rosa got to Father Pio, The lady disappeared and during her time with Father Pio he told her to spend two years caring for the sick. After these two years, Aunty Adele was taken ill and Father Pio told her to go home and care for her Aunty. Father Pio said: "You shall live through a great event".
Father Pio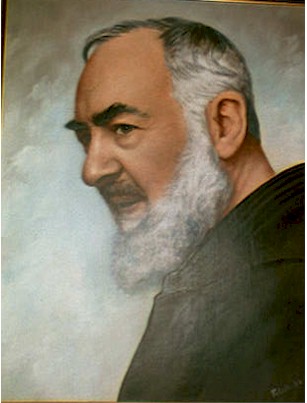 The First Appearance above the Pear Tree (October 16, 1964):
Mama Rosa was alone in her house on the 16th of October. She heard a voice coming from the garden: "Come! Come!" mama Rosa was afraid that she was hearing things or having illusions, but the voice called her again: "Come here, come here!" mama Rosa took hold of her Rosary and went outside into the garden. Suddenly a truly beautiful cloud appears out of the heavens filled with silver and golden stars coming to rest above the pear tree. The cloud also contained a large amount of rose petals, which fell to the ground. A red ball appears: opens up and The Virgin Mary becomes visible in a beam of blinding light. From Her hands great beams of light appear filled with rose petals that fell to the ground. Our lady was clad in blue, and had a white robe on with a belt of white. She smiled at mama Rosa and said: "My daughter, I come from afar. Tell the people, that all must pray, as Jesus can no longer carry His Cross. I want everybody to be saved, good and bad alike. I am The Mother of Love, the Mother of you all: You are all my children. That is why I want you all to be saved. And so I invite the entire world to prayer: as the punishments shall occur very soon. Whilst you are alive, I shall appear here every Friday at lunchtime and give you messages which you must pass on to the world". mama Rosa replied: " I am only a poor farmer. No one will believe me; they shall imprison me". "Be not afraid", Our Lady replied: "I shall leave you a sign, this pear tree shall bloom!" At the very moment Our lady disappeared from sight the pear tree became covered with blossom so profuse, that the people could barely see any foliage. The tree did not bear any fruit at this time, as this sort of pears where harvested later in the year. A branch of a plum tree, which Our Lady had touched, was also in full blossom. Despite the autumn storms these trees continued to flower for three weeks. Our Blessed Lady called this place: "Her Little Paradise". This day was the first day of mama Rosa's mission. Our Lady was to give her many messages for the world until mama Rosa's death in 1981. From that day forth The Virgin Mary appeared to mama Rosa. Following mama Rosa's death Our Lady has appeared at the same place every first Friday of every month and shall continue to do so until the end of time (the end of this world).
The unfavourable judgement (or opinion) of two experts from Piacenza was a surprise to everyone who knows the limits of human contrivance. The unseasonable blossoming was declared unnatural, because they did not want to believe in the sudden blooming of the tree. Rosa and to see the cousins of Lucia and Fatima, the Carmelite friars of Coimbre, did not share this opinion. Who understands the silent grief that she suffered, especially during the last years, as the instructions of our Lady Mary, which undoubtedly would have been beneficial to the shepherds and the people, were not fulfilled. Encouraged by Lucia they flew to Milan and reached San Damiano to speak to mama the miracle of the pear-tree in bloom.
Our Blessed Lady appeared more than 2000 times in San Damiano. It would appear superbfluxs to write about all these appearances. Thus I shall limit myself to the following appearances:
19th of February 1966:
"My children, I am here in your presence and have a very important message to give you: I shall soon come again and bring you a great light. Come here sit at my feet, trust me. Any who came here in rain, snow or fog are all well and shall see no side effects. Look, I'll help and comfort you. Become one in prayer, as the punishments shall be truly dreadful. Your Mother waits for you. It is I' would give you the kiss of love and reconciliation. Trust and you will be saved".
25th of February 1966:
"Pray my children. Pray that everybody may see The light. Pray for mercy for yourselves and the entire world. Because Jesus has suffered in these times", Says our Holy Mother Mary. "Jesus sweats blood for the sinners. Pray and get all to pray for the sinners, especially for the harden sinners, for all the clergy and religious, that they be enlightened by The Great Light".

4th of March 1966:
"I am very close to you; I shall never leave you. It depends on you whether the punishments come or not. If you promise, I shall promise also, but you must all come. You will be saved for this world and the next. Pray frequently to the Holy Spirit that He may enlighten you and grant you strength in Faith to get you through every difficulty and thus win".
21st of October 1966:
Mary, requested at this appearance that a well be dug in "Her Little Paradise" just behind the pear tree. On the 2nd of December, water was found at a shallow depth. At a depth of twelve metres the diggers struck very real, hard rock. This rock, the famous, "giastra" was not broken until 1967. When a manual worker managed to break through the rock. So much water that the pump was unable deal with it. mama Rosa was not content with this depth and asked them to dig to 17 metres in depth. An inexhaustible amount of water was found there. This water does not loose its quality by being put in plastic bottles etc and saved. Whilst drawing this water, all pelgrimes must pray 10 Hail Marys and thrice repeat: "Miraculous Virgin Mary of the Roses free our bodies and souls from all ailments."
7th of July 1967:
Our Blessed Lady does not cease calling for Faith, Charity, and Holiness, asking people to say the Rosary, the most blessed weapons. She speaks harsher words to the priests, who must strife to obtain holiness. They must spread the Apostolic teachings and stride eagerly to proclaim God's Word, Open their hearts for the sick and all must show great concern for the youth that is wading in the depths of sin and lust.
In 1968 Our Blessed Lady told mama Rosa the full size and amount of property covered by Her Little Paradise. The blessed area on which a basilica, (Chapel of the Appearances) was to be built as well as other buildings for Her Work Several different acres was bought. In 1974 the area known as Cascinotta. This area is on a hill near Rizzolo, approximately 5 kilometres from San Damiano. This area has a surface spreading over 44 acres, the same size area as Vatican City. It is called The Rose Garden. Most appearances from that time on can be summarised sufficiently as follows: Our Blessed Lady appeared as Queen of The Universal, The Miraculous Mother of the roses. She mentioned several signs that will precede a disaster. She requested a Holy Place and spoke of a Miraculous Spring.
The Blessed Handkerchiefs:
Our Blessed Lady said: "Bring lots of handkerchiefs here, completely white and place them in a nylon bag in My Garden"; "The handkerchiefs will be blessed on the First Friday and the first Saturday and on every feast day, by Our Blessed Lady. "These handkerchiefs will be filled with a great gift from Me. Anybody drying their eyes with one of these handkerchiefs shall receive The Light Of Heaven. They shall understand that Jesus is calling them, that they should understand and prepare themselves by Penance and Asking for forgiveness to become blessedly happy and at complete peace, ready to go to Heaven".
Mama Rosa: "People who have handkerchiefs with them; during troubled times, times of endurance, sadness or confusion should then cover them face with the handkerchief and make the sign of the cross. Sinners, sick or not will receive the Light of Faith by doing this!"
Mama Rosa died 5th of September 1981. Since 1975 her health had visibly been getting worse and she had been admitted hospital on several occasions. In the hospitals in, Ponte dell'Ollo, Parma and Fidenza. In Fidenza she received a visit from the local Bishop. On the 30th of August, mama Rosa attended Sunday Mass. 3rd of September she was taken back to hospital in Widens, where she died two days later on the fifth of September 1981 at 3.17 a.m.
She had received Holy Communion fifteen minutes earlier. She remained very clear-headed up until the last minute and was surrounded by her children and grandchildren.
Personal Note:
The Church has, not yet accepted these appearances in San Damiano. Much to my surprise. The enquiry, which the College of Bishops of Piacenza had run, was not really effective from day one. It showed very, very little respect for the witnesses of Villagers and Scientist. People pretend that the pear and plum had never existed and did not request any inquires. Nor did they question mama Rosa or the Parish Priest. Hopefully one day San Damiano will be approved and get its true, well earned recognition and value.
The Golden Hail Mary from Sam Damiano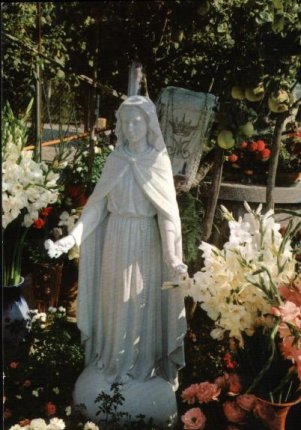 I greet you. White Lily of The Glorious and always Peaceful Trinity.
I greet You, Beautiful Rose
From the courts of Heavenly Joy.
O You Precious Queen who the Heavenly King
Allowed to carry and give birth to Him.
Fill our souls with Godly Grace.
Amen.