Saint Mary MacKillop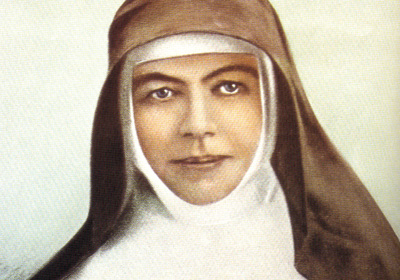 1842 - 1909
(1st Australian Saint)
Best known as: Mother Mary of the Cross
Feastday: August 8
Mary Helen MacKillop was born in Fitzroy, Melbourne on 15 January 1842 as daughter from Alexander MacKillop and Flora MacDonald. After Mary there were three more daughters and four sons born to the family. She was the eldest of eight children. Her parents were Scottish immigrants who had arrived to the Australian Colonies in the late 1830's. From her earliest years Mary had a delicate sense of God's presence, and felt called to live a life of poverty consecrated to the service of his poor. But she had to wait. The family needed her, and at the age of 16 she went to work to help her family.
In 1861 Mary and her sister moved to Penola, South Australia. There she met a Catholic priest, Father Julian Woods and together they opened Australia's first free Catholic school. Mary's desire to become a nun had grown stronger, yet she was still to find an order that suited her. For a brief time MacKillop left to work elsewhere as a teacher, but in 1866, at age 25, she adopted the religious name Sister Mary of the Cross. Together with Father Julian Tenison Woods, she founded the Congregation Sisters of Saint Joseph of the Sacred Heart and she opened a free Catholic school for the poor. The location of the first congregation was in a derelict horse stable on the outskirts of Penola. It was Australia's first religious order.
In 1867 the newly formed Sisters of St Joseph of the Sacred Heart moved to Adelaide to found a school at the request of Bishop Laurence Sheil. As well as providing education, the Sisters also established a women's refuge, an orphanage and a House of Providence, a home for older women. In 1869 she and some of the Josephite sisters arrived in Brisbane. They were based at Kangaroo Point and took the ferry or rowed across the Brisbane River to attend Mass at old St Stephen's Cathedral. She left Brisbane in 1871. The Josephite Congregation expanded rapidly and, by 1871, 130 sisters were working in more than 40 schools and charitable institutions across South Australia and Queensland.
Throughout her life, Mary met with opposition from people outside the Church and even from some of those within it. In the most difficult of times she consistently refused to attack those who wrongly accused her and undermined her work, but continued in the way she believed God was calling her and was always ready to forgive those who wronged her. Mary's independence and social ideas concerned Church authorities, and she was ordered by her bishop, who believed some exagerrated stories about the educator, to surrender control of the schools and her Order. She refused, and was excommunicated in September 1871 from the Church by Bishop Sheil for alleged insubordination, however he later lifted the excommunication in 1873, shortly before his death.
But what is the full story?
The full story is that Mary MacKillop was excommunicated out of "revenge," in the words of one priest familiar with her life, for her part (and her order's part) in uncovering a case of sex abuse by a priest in a nearby parish.
The work of the sisters continued to expand, and there were new foundations throughout Australia and New Zealand. At a time when state education was becoming secular, the work of the Sisters of St. Joseph helped lay the foundations for the extensive system of Catholic schools that still exists in Australia.
In 1883, Mary came into conflict with the Roman Catholic Church establishment by insisting on an equalitarian rather than hierarchical organization. Bishop Reynolds told her to leave his diocese and Mary transferred the headquarters of the Josephites in Sydney.
Illness and death:
Mother Mary MacKillop suffered a stroke in 1902. Over the next few years her health gradually deteriorated. On August 4, 1909, Cardinal Moran visited her sick room at the motherhouse in Mount St., North Sydney. He left with the comment, "I consider this day I have assisted at the death bed of a saint." Mother Mary of the Cross died on Sunday, August 8, 1909 in North Sydney and was laid to rest at the Gore Hill Cemetery, a few kilometres up the Pacific Highway from North Sydney. After her burial people continuously took earth from around her grave and as a result her remains were exhumed and transferred, on 27 January 1914, to a vault before the altar of the Mother of God in the newly build Memorial Chapel in Mount Street Sydney.
The Miracles of the Blessed Mary MacKillop:
To obtain the title of "Saint" the Catholic Church must recognise two miracles attributed to the Blessed Mary Mackillop. Mary's first miracle was recognised by the church in 1995 when a woman was cured of leukemia in 1961. The woman would go on to have six children and remain completely free of cancer. His Holiness Pope John Paul ll beatified Mary MacKillop on January 19, 1995 at Randwick Racecourse in Sydney.
Mother Mary MacKillop becomes 1st Australian saint
Pope Benedict XVI approved sainthood for Mother Mary MacKillop on Friday february 19, 2010, making the woman known for her work among the needy Australia's first saint. The pope made the announcement during a ceremony at the Vatican and set the formal canonization for October 17, 2010, in Rome.
Latest news:
October 17, 2010 Australia's five million Catholics have their first saint after Pope Benedict XVI canonized Mary MacKillop, co-founder more than 140 years ago of an order of nuns known as the "Sisters of the Outback." More than 8,000 Australians are estimated to have joined the crowd outside St. Peter's Basilica in Rome attending today's ceremony.
Mother Mary MacKillop: The Patron Saint of Abuse Victims