Saint Rafqa (Rafka)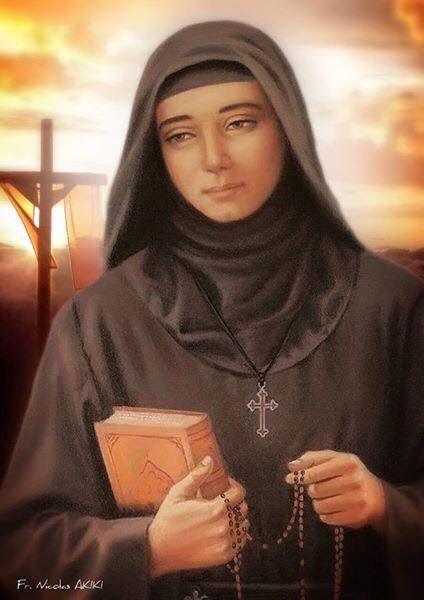 A Lebanese Maronite Saint
1832 - 1914
Feast day: March 23
Full name: Rafqa Pietra Choboq Ar-Rayès
Saint Rafqa, also know as Saint Rebecca, was born in Hemlaya, in Matn District, Lebanon on June 29, 1832. She was the only child of her parents, Saber El-Choboq El-Rayess and Rafqa Gemayel. She was baptized on July 7, 1832 and named Boutroussieh.
When Rafqa was 15, her father remarried, but Rafqa never got along with her stepmother, who wanted the young woman to marry a relative. Other family members also tried to arrange marriages for the beautiful Rafqa.
Faced with these situations, being already very religious, the woman who would become Saint Rafqa decided to start a religious career, first with the Congregation of the Virgin Mary between 1859 and 1871, also called Mariamettes, recently founded by Father Joseph Gemayel, despite her father's opposition.
In 1871, her Order merged with the order of the Sacred Heart of Jesus. The sisters were given the choice of joining the new combined order, joining other orders, or being released from their vows. Following dreams in which Saint Anthony the Great appeared to her, she joined the Lebanese Order of Saint Anthony of the Maronites (Baladiya Order) on 12 July 1871, a novice at age 39, taking the new religious name of Rafqa (= Rebecca).
In October 1885, Sister Rafqa made an unusual request of Jesus, asking to share in his suffering. She immediately began to experience pain in her head, which moved to her eyes. Her superior was concerned about Rafqa's pain and ordered that she be examined by doctors and sent to Beirut for treatment. Rafqa consulted a visiting American doctor who strongly suggested that the eye be removed.
Before the operation I asked the doctor to anesthetize the eye so that Rafqa would not feel any pain but she refused. The doctor made her sit down and pushed a long scalpel … into her eye … the eye popped out and fell on the ground, palpitating slightly … Rafqa didn't complain … but only said, 'in communion with Christ's Passion.'
But her body was weakening and she was eventually bedridden, although she was still able to use her hands and she thanked God for this as she used her hands to work.
Prior to her death, she dictated her autobiography. In the midst of suffering from tuberculosis, she prayed for an hour of sight to be able to see Mother Ursula, her superior. Her wish was granted. She passed away on March 23rd, 1914, was beatified in November 1985, and canonized in June 2001 by Pope John Paul II.
Rafqa died on 23 March 1914, and was buried in the convent's cemetery under the oak trees.
We remember a remarkable woman, who lived a humble life. Although she suffered, she never complained and continued to give thanks for the opportunity to share in Christ's passion. We ask for the intercession of Saint Rafqa for all those who are suffering, may the Lord comfort them. Like St Rafqa may we be able to join our suffering with Jesus' suffering on the cross.
Saint Rebecca is the patron saint of lost parents and of the sick.