Pope Francis I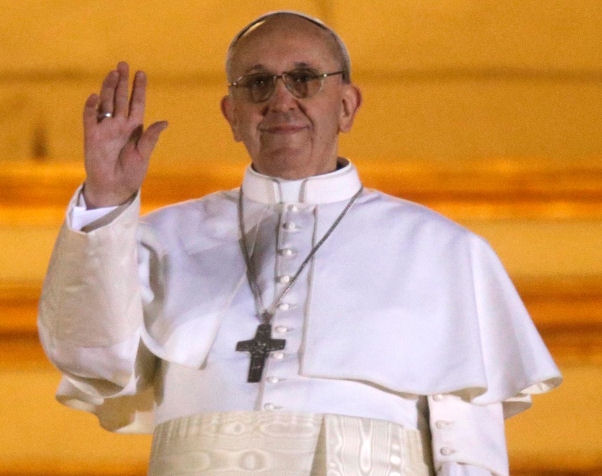 Cardinal Jorge Mario Bergoglio of Argentina was revealed Wednesday, March 13, 2013, to be the new leader of the Catholic Church. He has taken the papal name; "Francis I". Pope Francis I was born in Buenos Aires, Argentina, on December 17, 1936
He is the first Latin American to lead the Roman Catholic Church, as well as the first Jesuit. He is also the first non-European pope since about 1.200 years.
Ecclesiastical career
Francis I is the 266th and current pope of the Catholic Church. He was ordained as a priest in 1969. In 1998 he became the Archbishop of Buenos Aires, and in 2001 a cardinal. He was elected pope on 13 March 2013, following his predecessor Pope Benedict XVI's resignation on 28 February, choosing the name "Francis" (the first time a pope has taken that name) in honor of Saint Francis of Assisi.
Early life
Jorge Mario Bergoglio was born in Buenos Aires, one of the five children of Italian immigrants Mario José Bergoglio, a railway worker, and his wife Regina María Sívori, a housewife. As a teenager, Bergoglio had a lung removed as a result of an infection. He studied and received a master's degree in chemistry at the University of Buenos Aires before he decided to pursue an ecclesiastical career. According to another reference, he graduated from a technical school as a chemical technician and at the age of 21 decided to become a priest.
Jesuit
The Society of Jesus is a Christian male religious order of the Roman Catholic Church. The members are called Jesuits and are also known colloquially as "God's Marines". The society's founding principles are contained in the document Formula of the Institute, written by Ignatius of Loyola. Jesuits are known for their work in education (founding schools, colleges, universities and seminaries), intellectual research, and cultural pursuits, and for their missionary efforts. Jesuits also give retreats, minister in hospitals and parishes and promote social justice and ecumenical dialogue.