Saint Paul Miki and 25 Companions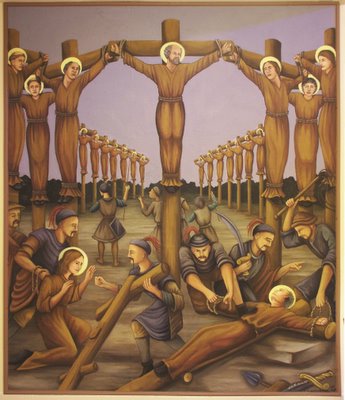 Martyr of Japan (1562-1597)
Feastday: February 6
During the 16th century, the Catholic faith reached Japan by the efforts of the Jesuit missionary Saint Francis Xavier (1506-1552). Jesuit outreach to the Japanese continued after his death, and around 200,000 Japanese had entered the Church by 1587.
Biography
Paulo Miki was born 1562 at Tsunokuni, Japan into a wealthy Japanese family. was educated at the Jesuit college of Anziquiama, joined the Jesuits in 1580,
and became known for his eloquent preaching. He was educated by the Jesuits in Azuchi and Takatsuki. He joined the Society of Jesus and became a well known and successful preacher - gaining numerous converts to Catholicism. The local daimyō, Toyotomi Hideyoshi, began persecuting Catholics for fear of the Jesuit's influence and intentions, and possibly that of European visitors.
The Japanese leader Toyotomi Hideyoshi was fearful of the Jesuit's influence and intentions. He began to persecute Catholics to curb the growth and success of the Jesuit's work. Paul Miki was jailed along with many others. He and his fellow Catholics were forced to march 600 miles from Kyoto to Nagasaki. All the while marching, he and the others sang the Te Deum, "Thee, O God, We Praise".
On arriving in Nagasaki, which today has the largest Catholic population in Japan, Miki was crucified on February 5, 1597. He preached his last sermon from the cross, and it is maintained that he forgave his executioners, stating that he himself was Japanese. Among the other Japanese who died were: Francis, a carpenter who was arrested while watching the executions and then crucified; Gabriel, the 19-year-old son of the Franciscans' doorkeeper; Leo Kinuya, a 28-year-old carpenter from Miyako; Joachim Sakakibara, cook for the Franciscans at Osaka; Peter Sukejiro, sent by a Jesuit priest to help the prisoners and who was himself arrested; Cosmas Takeya from Owari, who had preached in Osaka; and Ventura from Miyako, who had been baptized by the Jesuits, gave up his faith on the death of his father, became a bonze, and was brought back to the Church by the Franciscans.
All of them were beatified September 14, 1627 by Pope Urban VIIIand canonized June 8, 1862 by Pope Pius IX.
Sain Paul Miki is the Patron saint of Japan.