Our lady of Kerselare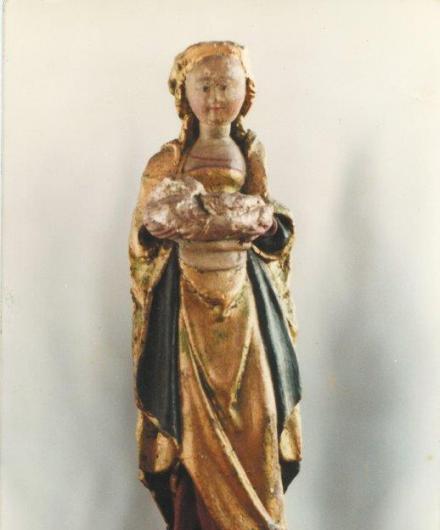 Kerselare is a busy Marian pilgrimage site. Every year many groups come to Kerselare, even from afar and on foot, to have a celebration in the chapel.
The Chapel of Our Lady of Kerselare is a chapel in the Belgian municipality of Oudenaarde. The chapel is located near the village of Edelare in the hamlet of Kerselare on the Edelareberg and is part of the pilgrimage site.
The chapel is dedicated to Our Lady of Kerselare.
History
In 1452, according to a legend, a statue of Mary was hung on a cherry tree. The foundation stone was laid on July 10, 1457 and a first mass was celebrated on July 2, 1455. The chapel was consecrated on May 3, 1460. A place of pilgrimage arose in the 15th century near the statue.
In 1570, the chapel was enlarged by order of Jacob van Joigny, baron of Pamele. This was probably the result of a vow of the father of the baron who had been attacked by a crocodile in Egypt. An embalmed crocodile was received in the chapel as a votive statue, but was replaced in 1804 and 1860 by a painted wooden crocodile by sculptor Van Biesbroeck. The old chapel from the 15th century became a side choir of the new 16th century chapel.
In 1961, the 15th-century chapel was destroyed by fire, with only the statue of Our Lady being saved. In order to erect a new chapel on this site, an international architectural competition was organized by the church factory. The winning design was by architect Juliaan Lampens.
Construction began in 1963 and the first service was held in the chapel in 1965. After the inauguration of the chapel, the concrete benches were replaced by chairs and the altar came to rest on a carpet.
In the 1980s, some stained glass windows were hung.
In 2005 pieces of concrete came loose and it was determined that the chapel was suffering from concrete rot. The roof slab of the chapel was in the worst condition with 83% of the reinforcement of the concrete affected by it. In 2012, yellow support posts were installed to support the roof.
Since 2009 the chapel is protected as a monument.
Building
The chapel is built in raw concrete under a sloping roof, whereby the architecture has been radically reduced to the essence. This sloping roof forms a slope that extends the hill, as it were. Originally, the pews were also made of concrete.
The Chapel of Our Lady of Kerselare