Saint Mutien-Marie Wiaux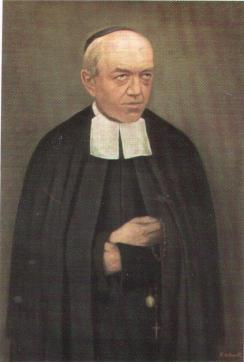 Belgium's first national saint
The Brother who always prayed
Feastday: January 30
Louis-Joseph Wiaux was born on March 20, 1841 in the small Belgian town of Mellet. He was the third of six children, four boys and two girls. His father was a devout man who made a living as a blacksmith while his mother kept a small tapestry. His mother took care of the six children and sold hand-woven rugs alongside. Louis-Joseph (as was his birth name) was supposed to help his father in the blacksmith shop. Both quickly realized that this was not for the young boy. At the age of 15, in 1856, he started his postulate with the brothers of the Christian Schools in Namur. Here he received the name Mutien-Marie. In 1859 he was sent to the Sint-Berthuïnus Institute in Malonne. Here he immediately failed as a class teacher and became the Brother, who was good for nothing, but who could in fact be used for everything: auxiliary teacher in drawing and music, bell man, whistleblower, invigilator at the least interesting hours and places, playing member of the school orchestra and the harmony, deputy organist ...... And in all this he always remained simple, friendly and helpful: for 58 years in the same monastery of Malonne.
He was called "the Brother who always prayed" or "the Apostle of the Hail Mary" or simply "the Bidder". He prayed as if he saw Maria herself standing before him. He was never seen without a rosary. This was a 6 decade rosary, the Brigittine, as we also find in Lourdes. This was recommended by the founder of the Congregation of the Brothers of the Christian Schools, Jean-Baptiste de la Salle. His maxim, which he proclaimed to everyone, was: "Whenever we pray the Hail Mary with Godliness, Mary looks down on us with eyes full of tenderness and happiness ..." He really prayed everywhere, all day long. Brother Mutien-Marie testified that in his love for Mary, especially in the practice of "True Godliness" according to the teachings of Saint Grignion de Montfort, he found the grace to remain joyfully faithful in the service of Christ and the fellow men around him. Stay true! Nothing but that, for 58 years, of the duty of doing the same thing every day, without becoming bitter or unhappy, without rebelling against that routine. Therein lies the sanctity of Brother Mutien-Marie and the lesson he wants to give to our contemporaries who are satisfied with nothing more. He was also a shining example to the youth in prayer. In this he commanded respect from the youth who loved nothing more than to follow him in order to get to know Christ. For more than fifty years he remains committed to the youth. During the First World War he was a source of support and he managed to protect the building during the occupation.
The Brother never had the opportunity to go on a pilgrimage to Lourdes. But in 1876, when students of the highest class built a Lourdes grotto halfway up the tree-lined slope that overshadows Malonne, this became his most beloved "place of pilgrimage". He could be seen kneeling there every day, especially to pray that extra decade in honor of the Immaculate Conception. November 29 always starts the preparatory noveen for the feast of the Immaculate Conception. Mutien-Marie advised everyone to attend Mass and Communion every day until December 8 and pray nine times in addition to the usual prayers during that period: "O Mary conceived without sin, pray for us who take refuge in You" .
But Brother Mutien-Marie's health deteriorated rapidly. There was a shortage of food and because there was no heating in the rooms, he developed asthma and rheumatism in his feet. The walks to the Lourdes grotto became increasingly difficult for him and on November 21, 1916 the doctor concluded that Mutien-Marie was completely exhausted. So much so that the chaplain was warned to administer the Holy Oliesel to him. The Brother understood that he was doing very badly, but remained very calm and said: "You do it Reverend, when it suits you best". Even then he first thought of others. Although the temperature dropped to minus 15 degrees, he didn't want a heated room. He responded: "Jesus and Mary give me enough warmth". He developed severe diarrhea, for which no remedy worked. He also lost control of his mouth muscles and had to keep walking with a handkerchief over his lips because he started to drool. He dragged his sick body around the house, wherever the day schedule called for him.
On Friday, January 26, 1917, on his way to class, he got dizzy. On January 27 he was already in the chapel at 4:30. His prayer book fell from his stiff hands. After communion he kept crying out the same thing in a low voice: "Oh, my Jesus, my good Jesus, I love you, I love you, I love you ...". He was told to stay in the infirmary that day, where he prayed the rosary all day long. In the evening, a nurse took him to his cold room. Monday January 29 he was unable to get up. Communion was brought to him. In the meantime he continued to pray aloud to his paternoster. A nurse stays at his bedside and forbids him to pray out loud because of his exhausted condition. On January 30, 1917 at a quarter past four, when the bells are ringing for getting up, Brother Multien-Marie asks the nurse: "One more Avé Maria ..." And with the name of his Heavenly Mother on his lips, he goes away softly . The nurse no longer sees the Brother's lips moving and thinks: "If he no longer prays, he must be dead ...."; and indeed. It was a simple funeral, in full winter, in full war. He was interred in the vault of the Brothers in the cemetery of Malonne. And the pilgrimage began. They came from far and wide, and their numbers continued to increase. To facilitate access to the grave, his remains were transferred in May 1926 to a new resting place along the street against the outside wall of the church. Because of the many miracles that had taken place after his death, the case of Multien-Marie was brought before Rome. On July 7, 1938, a new excavation took place.
After the death of Brother Mutien-Marie, intercession was often made and inexplicable healings took place. On this basis, Rome assembled a Medical Commission to investigate these "miracles". Eventually it was concluded that at least 2 miracles had taken place through the intercession of this Brother:
1st Wonder:
The 44-year-old Dominique Scaccia, born in Italy, but living in Lambertsart (near Lille) had a cold-fire-damaged leg that had to be removed. But upon closer examination it turned out that the infection had already penetrated to the abdomen. People were powerless here and could only wait for the death of this patient. Another sick person received a reliquary card from Brother Mutien-Marie from the family and immediately began to pray a novena. Two pilgrims left from Lille to Malonne and the sick person improved upon their arrival. After a few days, the doctors noted a full recovery, which was medically inexplicable to them.
2nd Wonder:
The 62-year-old Georges Thibault van Salzinnes (Namur), who had previously lived in Malonne himself, had such a varicose vein ulcer on his leg that medical help could no longer help. He held a novena to Brother Mutien-Marie. On January 20, 1952, he took the bus to Malonne and arrived at Mutien-Marie's grave in pain. He knelt down and in his prayer called for the intercession of the Brother. The pain stopped and he was able to stand normally again. He completed the 5 km. long way back to Salzinnes on foot, where he was declared completely healed after 3 days.
On the basis of these 2 miracles, Brother Mutien-Marie of the Christian Schools was Beatified in Rome on Sunday, October 30, 1977 by Pope Paul VI.
However, another miracle was required for the Canonization of the Brother and it soon came:
3rd Wonder:
This concerns Mutien-Marie's own colleague, namely Brother Madir (born in 1900 in Aartselaar as Frans Verstraelen). He was suffering from Osteoporosis, a disease that gradually affects the entire bone structure, especially the spine. Brother Madir became disabled and could only move on crutches. Because of his great achievements, he was allowed to attend the official "recognition" of the remains of Brother Mutien-Marie on February 22, 1977. No sooner had he touched the bones than his own body recovered in such a way that he could go out without crutches. The medical committee recognized this miracle and declared him completely cured. The great thing was that Brother Madir was allowed to be present at the Beatification of Brother Mutien-Marie in Fame and could climb all the stairs without signs of fatigue.
On December 10, 1989, he was canonized by Pope John Paul II.
Letter from Brother Mutien-Marie:
I consider the rosary as a chain that binds us to the Queen of Heaven, and this all the more firmly according to the fervor with which we pray. I also regard it as a bouquet of flowers, which we give to Maria. Oh, how happy we will be in our last moments, when we can testify then that every day of our lives we have offered to Mary all those nuggets of roses plucked on the mysteries of the rosary. Your fully devoted colleague in Jesus and in Mary. Brother Mutien-Marie.

Sanctuaire Frère Mutien-Marie
Rue du Fond 117
5020 Malonne, België
Telefoon: 0032 - 81 - 445167
Fax: 0032 - 81 - 451045