Saint Margaret Mary Alacoque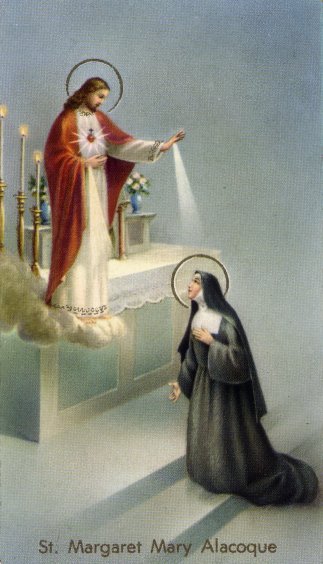 1647 - 1690
Memorial: 16 October
Also known as: Margarita Mary Alacoque, Margherita Mary Alacoque, Marguerite Mary Alacoque
Margaretha-Maria Alacoque was born July 22, 1647 in Hautecour (opposite Verosvres, about 20 km east of Charolles on the N79) in Burgundy, located in the French diocese of Autun. She was the fifth of seven children of Claude Alacoque and Philiberte Lamyn. Her father died of pneumonia when Margaret Alacoque was about eight yeras old, after which more than ever she found consolation in the Blessed Sacrament. Margaret Alacoque was sent to the Urbanist Sisters "The Poor Clares school" at Charollesat Charolles to study. She loved the peace and order of the convent life, and the nuns were so impressed by her devotion that she was allowed to make her First Communion at the age of nine.
When she was 11, Margaret Alacoque was stricken with rheumatic fever, and the resulting paralysis forced her to be bedridden for the next four years until the age of fifteen. It was during this time that she developed an intense devotion to the Blessed Sacrament and made a vow to the Blessed Virgin to consecrate herself to religious life.
Margaret Alacoque was healed from this rheumatic fever by a vision of the Blessed Virgin Mary. During her suffering, she developed an intimate relationship with Jesus in the Blessed Sacrament, the Holy Eucharist. In the vision, Our Lady prompted Margaret Alacoque to give her life to God. In 1671 after receiving a vision of Christ's Scourging, she entered the Order of Our Lady of the Visitation at Paray-le-Monial, on May 25, 1671, at the age of 23. She pronounced her final vows on November 6, 1672 and took the name Mary.
Our Lord appeared to Mary and revealed devotions to His Sacred Heart. She was favoured with many apparitions, the most special ones took place between 1673 and 1675. In one of these apparitions Jesus said to her: "Look at this Heart which has loved people so much, and yet they do not want to love Me in return. Through you My divine Heart wishes to spread its love everywhere on earth." Jesus made at least twelve promises to her telling her how he would help those who honor His Sacred Heart.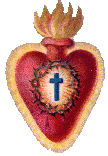 The Twelve Promises of Jesus
I will give them all the graces necessary for their state of life.
I will establish peace in their families.
I will console them in all their troubles.
They shall find in My Heart an assured refuge during life and especially at the hour of their death.
I will pour abundant blessings on all their undertakings.
Sinners shall find in My Heart the source of an infinite ocean of mercy.
Tepid souls shall become fervent.
Fervent souls shall speedily rise to great perfection.
I will bless the homes where an image of My Heart shall be exposed and honored.
I will give to priests the power of touching the most hardened hearts.
Those who propagate this devotion shall have their names written in My Heart, never to be effaced.
The all-powerful love of My Heart will grant to all those who shall receive Communion on the First Friday of nine consecutive months the grace of final repentance; they shall not die under my displeasure, nor without receiving their Sacraments; My heart shall be their assured refuge at that last hour.
The Nine Fridays must be made in honor of His Sacred Heart, meaning, practicing the devotion and having a great love of His Sacred Heart. They must be on the first Friday of the month for nine consecutive months, and Communion must be received.) The Nine First Fridays
With regard to this promise it may be remarked:
That our Lord required Communion to be received on a particular day chosen by Him;

that the nine Fridays must be consecutive;

that they must be made in honor of His Sacred Heart, which means that those who make the nine Fridays must practice the devotion and must have a great love for our Lord;

that our Lord does not say that those who make the nine Fridays will be dispensed from any of their obligations or from exercising the vigilance necessary to lead a good life and overcome temptation; rather He implicitly promises abundant graces to those who make the nine Fridays to help them to carry out these obligations and persevere to the end;

that perseverance in receiving Holy Communion for nine consecutive First Firdays helps the faithful to acquire the habit of frequent Communion, which our Lord eagerly desires;

that the practice of the nine Fridays is very pleasing to our Lord since He promises such great reward, and that all Catholics should endeavor to make the nine Fridays.
Rebuffed by her superior, Mother de Saumaise, in her efforts to follow the instruction she had received in the visions, she eventually won her over but was unable to convince a group of theologians of the validity of her apparitions, nor was she any more successful with many of the members of her community. She received the support of Blessed Claude de la Colombière, the community's confessor for a time, who declared that the visions were genuine. In 1683, opposition in the community ended when Mother Melin was elected Superior and named Margaret Mary her assistant. In 1686 her convent celebrated the feast of the Sacred Heart of Jesus for the first time.
In 1688, a chapel dedicated to the Sacred Heart was constructed at Paray-le-Monial and soon the devotion began to spread, with the help of the Visitandine Nuns and the priests of the Society of Jesus. Only two years later, Margaret Mary died suddenly on October 17, 1690. The devotion to the Sacred Heart of Jesus spread throughout France, and in 1765 Pope Clement XIII officially approved the devotion.
In March, 1824, Leo XII pronounced her Venerable, and on 18 September, 1864, Pius IX declared her Blessed. When her tomb was canonically opened in July, 1830, two instantaneous cures took place. Her body rests under the altar in the chapel at Paray, and many striking favours have been obtained by pilgrims attracted thither from all parts of the world. Her feast is celebrated on 17 October. Mary was canonized by Benedict XV om May 13, 1920. Her incorrupt heart and brain have been preserved in a wax and metal figurine of her body and can be seen in the convent chapel of the Order of the Visitation at Paray, France.
Patronage: against polio; devotees of the Sacred Heart; loss of parents; polio patients
Prayer to Saint Margaret Mary Alacoque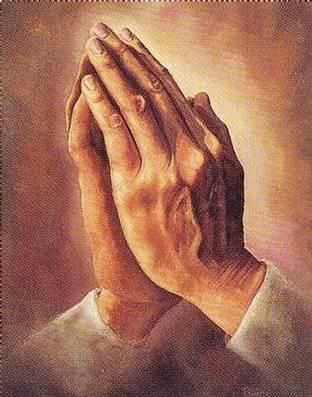 Saint Margaret Mary, thou who wast made a partaker of the divine treasures of the Sacred Heart of Jesus, obtain for us, we beseech thee, from this adorable Heart, the graces we need so sorely. We ask these favors of thee with unbounded confidence. May the divine Heart of Jesus be pleased to bestow them upon us through thy intercession, so that once again He may be loved and glorified through thee.
Amen.
V. Pray for us, O blessed Margaret;
R. That we may be made worthy of the promises of Christ.
Let us pray.
O Lord Jesus Christ, who didst wondrously open the unsearchable riches of Thy Heart to blessed Margaret Mary, the virgin: grant unto us, by her merits and our imitation of her, that we may love Thee in all things and above all things, and may be worthy to have our everlasting dwelling in the same Sacred Heart: who livest and reignest, world without end.
Amen.