Saint Lawrence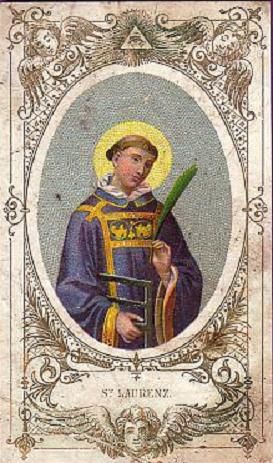 225 - 258
Feast day: August 10
Saint Lawrence was one of the most venerated martyrs of the Church of Rome. Legend has it that this deacon was burned alive on a grate. He is the patron saint of the diocese of Rotterdam.
He was called Archdeacon because he presided over the distribution of the alms by order of the Bishop, in Lawrence's case that of Rome (not yet called Pope), Sixtus II. However, the emperor, Valerian I at the time, set the laws in the city. Christians were no longer allowed to gather in places of worship or assemblies, nor to visit cemeteries – such as the catacombs in Rome, where (Pope) Sixtus II nevertheless celebrated a mass and was subsequently arrested and put to death. Laurentius was one of the seven deacons present and was first interrogated by the Emperor, who wanted to claim the riches of the Church, because Laurentius, as a deacon, was charged with distributing them to the poor. On leave to collect the requested treasures, he gave away everything he could dispose of and returned with a group of arms. They were presented to the Emperor as the "Treasures of the Church."
Laurentius had to pay with his life: he was successively flogged, roasted alive over a fire and finally beheaded. In the Basilica of Saint Laurentius Outside the Walls (San Lorenzo fuori le Mura), one of the main churches of Rome, his relics are kept along with those of fellow deacons Stephen and Justin. Relics of him can also be found in Maasniel and the parish is named after him (as are many other churches in the Netherlands).
In the tenth century, the Hungarians had a big house in Europe. Laurentius' cult was given a new impetus by the defeat of the Hungarians at the Battle of the Lechveld on his name day in 955. In Spain, the abbey complex and palace El Escorial northwest of Madrid and near the town of San Lorenzo de El Escorial was built by King Philip II in the form of a grid, referring to the martyrdom of Laurentius; in gratitude, because on August 10 the Battle of San Quintín began and Philip II won it. It houses a large library similar to that of the Vatican.
Shooting stars on August 10 (actually the Perseids meteor shower) are called Saint Laurent's tears because they appear on Laurentius' feast day. He is the namesake of many churches throughout Europe, seven of which are in Rome alone. He is also the patron saint of librarians (because he was in charge of the holy books), cooks, bakers and firefighters and can be invoked in case of fire and burns (because he was roasted alive). Lawrence, together with Saint Stephen and Saint Vincent of Zaragoza, is counted among the three holy servants.