Our Lady of Kortenbos (Belgium)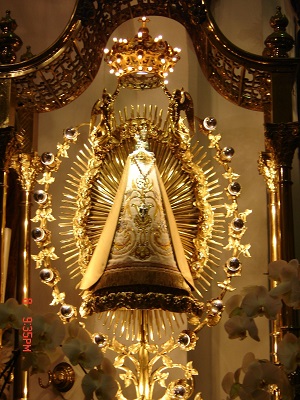 Kortenbos is a parish and pilgrimage site in Limburg (Belgium), which is partly on the territory of the municipalities of Nieuwerkerken and Alken, and the town of Sint-Truiden.
Originally, the current Kortenbos was called: "Nachtegael", after the leenhof that was located there at that time. The origin of Kortenbos is closely connected with the origin of the current basilica.
The history of Kortenbos has been dominated since 1636 by the miraculous statue of Our Lady and later by the Basilica of Our Lady of Kortenbos. This church dates from 1644 and is served by the Premonstratensians of Averbode.
In the 17th century, many travelers had to travel from Sint-Truiden to Hasselt via the densely wooded area that is now Kortenbos. This route was known to be extremely unsafe, because many highway robbers hid here and travelers were often ambushed, robbed and killed.
In 1636 Elisabeth van Oeteren, a landowner in the area, placed a small, clay statue of Mary near an old oak tree. She begged Maria's help against the many misdeeds and robberies. A miracle happened; not only did the highway robbers stop immediately, many sick people also found a sudden cure when venerating the statue of Mary. Between 1637 and 1651, 32 such healings were recognized as miracles.
Our Lady of Kortenbos was proclaimed "Patroness of Limburg" on May 13, 1873 by Mgr de Montpellier, Bishop of Liège. The solemn coronation of the statue of Mary was approved by Pope Leo XIII on August 11, 1897 and took place on May 1, 1898. On February 24, 1936, Pope Pius XI conferred on the pilgrimage church of Kortenbos the title of Basilica Minor = "Roman Basilica". From 1991 to 1996, a major restoration took place under the direction of architect Paul Stevens. Every year many thousands of pilgrims come to the miraculous statue of the Virgin Mary, especially in the Marian month of May. Since 2000, a pilgrimage has taken place from Averbode to Kortenbos on 1 May.
The more than 350-year-old pilgrimage site of Kortenbos is particularly popular in May.
Our Lady is heard as the salvation of the sick.
The annual parochial Marian pilgrimage was organized this year by the parish team to the place of pilgrimage of Our Lady "Onbevlekt" in Dadizele (W-Vl) on Tuesday 02.07.13.
With thanks to Pastor E.H. Luc Michiels o. praem. from the parish of Kortenbos for being allowed to use data.