Saint Joan of Arc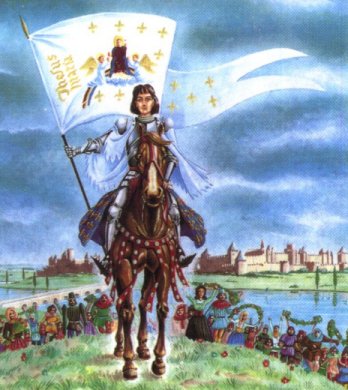 1412 - 1431
The feast day for Joan of Arc is celebrated on May 30th
Also known as: Maid of Orleans; Jeanne d'Arc; Jean D'arc; Jehanne Darc
Joan of Arc, a patron saint of France and a national heroine, led the resistance to the English invasion of France in the Hundred Years War. She was born 6 January 1412 at Greux-Domremy, Lorraine, France; the third of five children to a farmer, Jacques Darc and his wife Isabelle de Vouthon in the town of Domremy on the border of provinces of Champagne and Lorraine. Her childhood was spent attending her father's herds in the fields and learning religion and housekeeping skills from her mother. When Joan was about 12 years old, she began hearing "voices" of St. Michael, St. Catherine, and St. Margaret believing them to have been sent by God. These voices told her that it was her divine mission to free her country from the English and help the dauphin gain the French throne. They told her to cut her hair, dress in man's uniform and to pick up the arms. So Joan scraped the sheep manure off her feet, cut her hair "short and round in the fashion of young men", went to her uncle, Robert de Baudricourt, and persuaded him to provide her an escort to Chinon. He gave her a horse and a dagger slender enough for her maiden's hand, along with a tunic and trousers, boots, and a boy's black cap. He heard her six-man escort swear an oath that they would see her safely to Chinon; they wrapped their horses' feet in rags to muffle their clops and set off.
Twelve days later, they arrived at the Dauphin's court. Joan immediately located the Dauphin (he was the spindliest man there.) "I am called Joan the Maid," she told him. "Give me soldiers and I will raise the siege of Orléans." So the Dauphin had armor made for her, and a banner with the image of Christ on a rainbow and her motto, Jhesus--Maria. Joan revealed that the sword she intended to carry lay buried at the church of St. Catherine at Fierbois; it would be recognized by the five crosses cut into its blade. And so it was. With around three thousand soldiers and some of the Dauphin's best knights, she travelled to Orléans. In the midst of battle Joan had her foot on the first rung of a scaling ladder when a winging arrow plunged through her shoulder, close to her neck. Her knights carried her from the field and cut the iron tip off the arrow. Joan tugged the shaft out of her flesh herself, climbed up on her horse, and rode back to victory. Joan battled her way to Reims, so that the Dauphin, trailing along behind her, could be crowned. He could not be crowned with the crown of Charlemagne, since the English had already stolen it; but the canons of the Cathedral of Reims dug up a modest substitute. His barons draped him in a blue mantle embroidered with golden fleurs-de-lis, and the archbishop anointed him. He was now Charles VII, King of France. At the coronation, Joan of Arc was given a place of honor beside him.
However, the king refused to take her advice that he should press the military advantage. When she attempted to recapture Paris from the English, he denied her adequate support, and the attempt failed. In May 1430 she was taken prisoner in battle, and tried on an accusation of sorcery and heresy. Charles made no effort to ransom her or rescue her, although her first captors would almost certainly have accepted a ransom. She was convicted and burned at the stake on 30 May 1431, being then a little less than nineteen and a half years old. The French, however, eventually went on to win the war and to expel the English from France. King Charles, perhaps because it was not to his advantage to have it said that he had been crowned by a witch and a heretic, and that he owed his victories and his kingdom to a pact with the Devil, pressured the Church courts for a review of the verdict against Joan, and got her condemnation annulled in 1456. She came to be regarded as a French national hero, and was eventually canonized by the Pope in May 1920. Her day (or a Sunday close to it) is a French national holiday. She is ranked with Denis of Paris and Remi of Rheims as one of France's three great national saints. She is honored by the Church, not for winning military victories, or even because her visions were necessarily authentic, but because, being persuaded of the will of God for her life, she responded in faith and obedience to that will as she understood it.
The exclamation of the English soldier, "God forgive us: we have burned a saint," was formally justified 375 years later when St. Joan was canonized in a great ceremony at Rome. Only ten years after her execution, however, the belated recognition by Charles VII of the greatness of her services, rising patriotism of France and the breach between England and Burgundy opened the way for a review of her sentence. A new court was appointed, this time at Paris and in the hands of the French king; the testimony was reviewed, the conclusion of the earlier court reversed and the Maid declared innocent. The personality of Joan of Arc is interesting for its own sake, particularly when it is placed against the false or declining piety of so many others in her time. But her career also has a deeper and wider significance. It is one of the earliest and best indications of what is more and more impressed on you when you study this period. It is in this time that we find embedded the roots of one of the most powerful of the forces, whether good or bad, that were to influence all modern history, the sense of nationality, the response of peoples to the appeal of patriotism, the united support by the whole people of a centralized government.
Postscript:
Thirty years after her death, Pope Callistus III had the trial reopened. In 1456 the sentence was solemnly revoked; France's national heroine was innocent.
The national heroine of the sometimes extremely nationalistic French was born on 6 January 1412 in Domrédy aan de Maas. The farmer's daughter Joan of Arc learned neither to read nor write. She is said to have had her first appearances when she was 13. In visions, saints like Michael, Catherine, and Margaret passed her by.
Since Joan of Arc had resolved to remain a Virgin, she put on men's clothes. Joan of Arc is more of a national symbol of France than a true saint.
Her Beatification therefore came about very late, in 1909, when national chauvinism was very strong. The Canonization of the Virgin of Orleans followed on May 16, 1920 by Pope Benedict XV. She is the patroness of telegraph operators and radio.
Personal note:
We see that the most and most important apparitions of Mary took place in France. God has a purpose for France. Normandy, for example, is protected by the Archangel Michael. Joan of Arc has been used as an instrument by God. She has saved France from separating from Rome and becoming Anglican like England. For me, Joan of Arc is a true Saint.
The true face of Joan of Arc:
In the TV program "in the flesh" they went in search of the woman behind Jeanne d'Arc.
Searches were made in Orleans and Paris.
The search involved a historian and the world's best 3D designer.
On the basis of all the data obtained, including the hairstyle and clothing, a woman has been created via an ingenious computer program, as Jeanne d'Arc must have looked at that time.
Prayer to St. Joan of Arc For Faith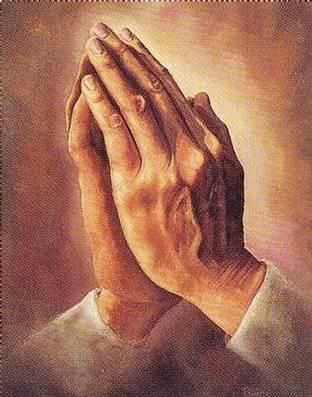 St. Joan you are a timeless model for all men and women to follow. The impatience and frustration you showed with your generals and king shows your humanness that we can relate to in our own life and struggles. Help us in our daily life. You lived this statement to the fullest that "Christianity can be preached only by living it." Help us do the same. I ask you for this special favor. Thank you. Amen