Hail Mary (Special)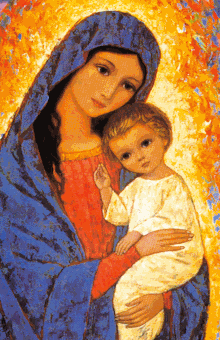 Hail Mary, hello, how are you?
I greet you with love,
And I thank you for being available.
Deeply, I breathe your roses,
The twelve fresh roses you place in my spirit
Every morning when I say hello to you.
Full of grace are you,
Grace spilling over Heaven's boundaries
Into my world, living water, bread and wine,
The unmerited favor of God
That you come carrying to me,
Your arms always full of gifts.
The Lord is with thee,
Jesus Christ the Messiah is with you,
And you teach me how to recognize
That the Lord is with me.
Blessed art thou amoung women,
Glowing with love for Jesus,
Pure blessedness never tainted
But alive with holy beauty.
And blessed is the fruit of thy womb, Jesus,
The most blessed of humanity,
Delivered through you, Virgin Mary.
Jesus, the most cursed of humanity,
Who became a curse for me
So that I might be blessed
With his resurrection life.
Holy Mary, Mother of God,
Teach me to value motherhood,
Help me pray for mothers and fathers
To love and support each other.
Show me how God loves you.
Pray for us sinners now
And at the hour of our death.
Pray that I can live each moment
Consecrated to love, to Christ,
That I recognize each now
As the moment of salvation
So that I die prepared for eternal life.
Pray that I can crucify my passions,
Those passions that make me a sinner,
And that I can die to sin on the cross with Jesus
As you look on weeping and praying
But joyous, knowing that resurrection follows.
Hail Mary, full of grace,
The Lord is with thee.
Blessed art thou among women
And blessed is the fruit of thy womb, Jesus.
Holy Mary, Mother of God,
Pray for us sinners
Now and at the hour of our death. Amen.

by Mark Andrew