Saint Gertrude of Nivelles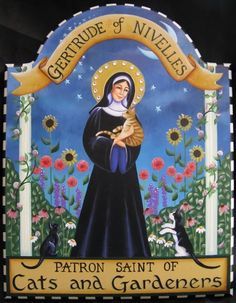 628 - 659
Feastday: March 17
Saint Gertrude of Nivelles was born in 628 in Landen as the daughter of Pippin I of Landen from Ida van Nivelles. She became one of the important saints of northern Gaul.
Gertrude enjoyed a very godly upbringing. As a young girl, she intended to put virginity in the service of God.
Refusing to marry a rich man, she entered the monastery founded by her mother in 640. Her person is surrounded by miracles and apparitions.
At a feast at King Scrooge, a prince proposed to her, but she refused, saying: "I have chosen as bridegroom the eternal beauty which is the source of the beauty of all creatures. He who possesses infinite wealth and through the angels. is worshiped. "
Pilgrims from the region of Jabeek and from Germany ask for her intercession in the parish church against mouse and rat plagues. Blessed water was taken on the return journey.
She died on March 17, 659 at the age of 33 and is buried in the monastery of Nivelles (Belgium). Her feast day is celebrated on her death day.
A relic of Gertrude is kept in the Sint-Amanduskerk in Wezeren in Flemish Brabant.
Patron Saint: of cats.