Saint Gerard Majella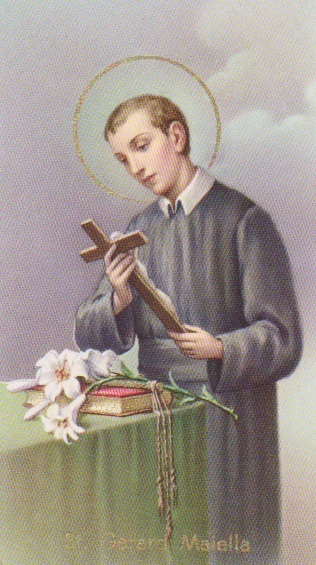 (1726-1755)
Feastday: October 16
Gerardus Majella was born on April 23, 1726 in Muro Lucano, ± 80 km south of Naples, Italy. the youngest of five children. He was the son of a tailor who died when Gerard was twelve, leaving the family in poverty. His mother then sent him to her brother so that he could teach Gerard to sew and follow in his father's footsteps. However, the foreman was abusive. The boy kept silent, but soon his uncle found out and the man who taught him resigned from the job. After four years apprenticeship, he took a job as a servant to work for the local Bishop of Lacedonia. Upon the bishop's death Gerard returned to his trade, working first as a journeyman and then on his own account. His earnings he divided between his mother and the poor, and in offerings for the souls in purgatory.
He is known popularly today as "The Mothers' Saint." It may seem odd that a male religious should be the saint for mothers, mothers-to-be and those wanting to become mothers. The origin comes from an incident that happened in the last months of his short life.
Once, as St. Gerard was leaving the home of his friends, the Pirofalo family, one of the daughters called after him because he had forgotten his handkerchief. In a moment of prophetic insight Gerard said: "Keep it. It will be useful to you some day." The handkerchief was treasured as a precious souvenir of Gerard. Years later the girl to whom he had given it was in danger of death during childbirth. She remembered the words of Gerard, and called for the handkerchief. Almost immediately the danger passed and she delivered a healthy child.
Majella's last will consisted of a small note on the door of his cell saying, "Here the will of God is done, as God wills, and as long as God wills." He died on October 16, 1755 in Caposele, Campania, of tuberculosis, aged 29."This devotion has become very popular in North America, both in the United States and Canada.
Majella was beatified in Rome on January 29, 1893, by Pope Leo XIII. He was canonised less than twelve years later on December 11, 1904, by Pope Saint Pius X. The feast day of Saint Gerard Majella is October 16.
In 1977, St. Gerard's Chapel in St. Lucy's Church (Newark, New Jersey) was dedicated as a national shrine. Each year during the Feast days which include October 16, there are the traditional lights, music, food stands and the street procession. Devotees visit the Shrine also throughout the year to pray to and petition the help of St. Gerard.
The St. Gerard Majella Annual Novena takes place every year in St. Josephs Church, Dundalk, Ireland. This annual nine-day novena is the biggest festival of faith in Ireland. St. Joseph's sponsors the St. Gerard's Family League, an association of Christians united in prayer for their own and other families, to preserve Christian values in their home and family life.