Saint Elizabeth Ann Bayley Seton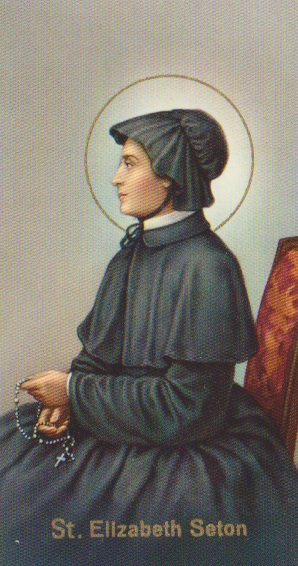 August 28, 1774 – January 4, 1821
Feast day: January 4
Elizabeth Ann Seton was the first American to be canonized. She was raised Anglican, but later converted to Catholicism.
She was born on August 28, 1774 as the daughter of Dr. Richard Bayley, a physician, and Catherine Charlton. The Bayley family was a professing member of the Anglican Church and a social eminent couple from New York City. The Bayley and Charlton families were among the first European settlers in the New York area.
The early deaths of her mother in 1777 and her little sister in 1778 gave Elizabeth a sense of the eternity and temporality of pilgrim life on Earth. Rather than being gloomy and gloomy, she faced each new 'holocaust', as she put it, with hopeful cheerfulness.
She founded the first Catholic girls' school in the country in Emmitsburg, Maryland, where she also founded America's first congregation of religious sisters, the Sisters of Charity.
On January 25, 1794, at the age of 19, Elizabeth married William Magee Seton, aged 25, a wealthy businessman in the import trade. Samuel Provoost, New York's first bishop, presided over their wedding.
She was a pioneer in Catholic education and faced much resistance from her own Episcopalian family and within the predominantly Protestant community. She also lost two of her daughters. She herself died of tuberculosis.
After her death, her body was interred in the National Shrine of H. Elizabeth Ann Seton in Emmitsburg, Maryland, which is not only a religious, but also an educational center, the church of which has been elevated to a basilica. The Sisters of Mercy has spread across North America and is even active in the Philippines.
Elizabeth was beatified in 1963 and canonized in 1975. The Sisters of Mercy is the largest existing sister congregation in the United States, and Elizabeth is the patron saint of the Catholic schools, widows and sailors in America (because she always prayed for her husband and two of her sons who sailed a lot at sea). It can be invoked at the death of children and for those who are mocked for their piety.