Dorothea (Dora) Visser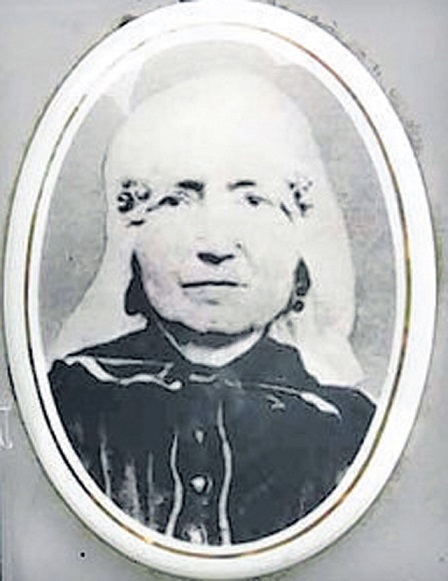 The Stigmatized Van Gendringen - 1819-1876
Feastday: July 12
Life of Dorothea Visser:
Dorothea (Dora) Visser was born in Gendringen, the Netherlands, on September 28, 1819 as the daughter of a day laborer. She was so injured in her right leg at the age of twelve that walking became almost impossible. Five years later she developed paralysis of the urinary tract. Prayer, suffering and fasting then became important in her life. She is said to have received the stigmata for the first time at the end of 1843, which returned many times until her death in 1876. For a year she got the marks every Friday, later only on Good Friday and the Holidays of the Cross (3 May and 14 September). Healings are said to have taken place through her intercession. Because of this and through sermons by Redemptorists, Dora in Gendringen and the surrounding area received a name of holiness, but she also raised critical questions. Dora was one of the few Dutch stigmatists. Her tombstone in the Olburgen cemetery near Dieren states that she bore the wounds of Christ for 33 years.
The miracle:
The miracle that has been reported concerns a miraculous healing that is said to have occurred through the intercession of Dorothea Visser. It concerns a currently 70-year-old man, who was born without hips. He has already undergone several operations in his life. He has always walked with crutches. His attending physician told him 8 years ago that he would end up in a wheelchair. This man then went to attend the prayer services in honor of Dora in Olburgen every month. About 6 years ago he visited Dora's grave and asked her intercession for healing. When he got home he went to the toilet. Then he appears to have had a kind of blackout, because suddenly he noticed that he was walking around the room without crutches. He could walk normally again without any aids. An investigation must now show whether this cure, also from a medical perspective, is indeed a miracle. Such a miracle through the intercession of Dorothea Visser is necessary, among other things, to be 'beatified'.
Healings:
Through the healings that took place through her intercession and through sermons by Redemptorists, Dorothea in Gendringen and the surrounding area received a name of holiness, but she also raised critical questions. Her general practitioner brought her to fame by publishing a defense of her experiences in brochure form in 1844.
Diary Antonius Kerkhof:
In 1853 Antonius Kerkhof became the confessor of Dorothea. He became convinced of her holiness and kept a journal of the wonderful events in her life. His attempts to publicly proclaim Dora's holiness were not appreciated by the Archbishop of Utrecht and led to his transfer to Kloosterburen in Groningen in 1864. Dora Visser went along as housekeeper, and stayed with him when Antonius Kerkhof was transferred to Olburgen in 1872. There she died at 12 July 1876.
Worship:
Kerkhof's notes on Dorothea were processed in 1965 by the journalist Bert Kerkhoffs, after which her worship began. Targeted publicity around her 100th anniversary and an exhibition about her life in 1991-1992 again led to a crowd of visitors to Dora Visser's grave. A prayer bench was placed at the grave. A number of answers to prayers have already been reported.
Dora Visser Foundation:
There is a foundation: "Friends of Dora Visser", Olburgseweg 1, 7225 NA Olburgen, which is committed to the recognition of the stigmata and the revelations. The current pastor has stated that an official investigation has now started into the phenomena surrounding Dorothea Visser.
Simonis installs diocesan court to establish miracle:
Cardinal Simonis, archbishop of Utrecht, has installed a court on March 22, 2005 at 10 am at Maliebaan 38-40 in Utrecht, which will investigate a possibly miraculous cure that would have occurred through the intercession of Dorothea Visser. Now we can start calling and hearing the witnesses. The installation of the court is public, the witness hearings take place behind closed doors.
Friday, August 5, 2005 Cardinal Simonis of the diocese of Utrecht came to Olburgen to preside over the Eucharist in commemoration of Dora Visser.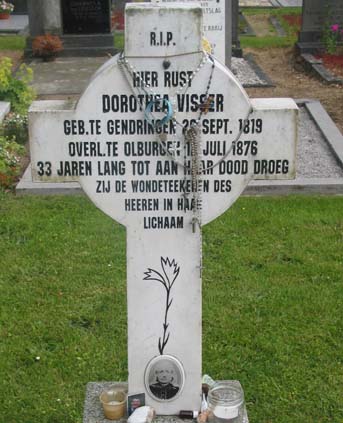 Photo with permission from Stichting Dodenakkers.nl
Source credit:
With the permission of the editors, I have been allowed to take this article from the Newsletter "Catholic Netherlands" of March 19, 2005, for which my thanks.
© 2005 Catholic Newspaper
No part of this publication may be re-published in any form without the prior written consent of the publisher.