Saint Damien of Molokai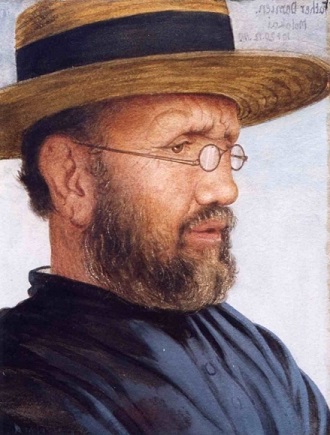 Feastday: May 10
The man who would become St. Damien of Molokai, was born in rural Belgium, on January 3, 1840. His name was Jozef De Veuster, and he was the youngest of seven children. Growing up on the farm, Jozef was prepared to take over for his family, but he did not want the responsibility. Instead, he wanted to follow his older brother and two sisters who took religious vows.
He was educated at the college of Braine-le-Comte, and in 1858 he joined the Society of the Sacred Hearts of Jesus and Mary (Picpus Fathers) at Leuven, Belgium. In place of his brother, Father Pamphile, who had been stricken by illness, he went as a missionary to the Sandwich (Hawaiian) Islands in 1863. He reached Honolulu in 1864 and was ordained a priest the same year. Moved by the miserable condition of the lepers whom the Hawaiian government had deported to Kalaupapa on the island of Molokai, he volunteered to take charge of the settlement.
Since there was no cure for leprosy at the time, this choice meant certain death for the young priest who had just turned 33. Poet and author Robert Louis Stevenson wrote of Father Damien's decision, "He shut to, with his own hands, the doors of his own sepulchre."
Amidst the chaos encountered upon his arrival on the tiny island, Father Damien worked immediately to restore human dignity and respect for life to each person.
In the beginning, the Royal Board of Health provided the quarantined people with food and other supplies, but it did not have the resources to offer proper health care for them. According to documents of that time, the Kingdom of Hawaii did not plan the settlements to be penal colonies, but the kingdom did not provide enough resources to support them. The kingdom planned for the inhabitants to grow their own crops but, because of the local environment and the effects of leprosy, this was impractical. By 1868, according to the Catholic Encyclopedia (1911), "Drunken and lewd conduct prevailed. The easy-going, good-natured people seemed wholly changed."
While Bishop Louis Désiré Maigret, the vicar apostolic of the Honolulu diocese, believed that the lepers at least needed a Catholic priest to assist them, he realized that this assignment could become a death sentence. Hence he did not want to send any one person "in the name of obedience". After much prayer, four priests volunteered to go. The bishop's plan was for the volunteers to take turns assisting the inhabitants. Father Damien was the first priest to volunteer and, on May 10, 1873, he arrived at the secluded settlement at Kalaupapa, where Bishop Maigret presented him to the 816 lepers living there. Damien's first course of action was to build a church and establish the Parish of Saint Philomena. His role was not limited to being a religious priest. He dressed ulcers, built a reservoir, built homes and furniture, made coffins, and dug graves. Six months after his arrival at Kalawao he wrote his brother, Pamphile, in Europe: "I make myself a leper with the lepers to gain all to Jesus Christ."
Father Damien's arrival is seen by some as a turning point for the community. Under his leadership, basic laws were enforced, shacks became painted houses, working farms were organized, and schools were established. At his own request and of the lepers, Father Damien remained on Molokaï .
Illness and death
In December 1884 while preparing to bathe, Damien inadvertently put his foot into scalding water, causing his skin to blister. He felt nothing. Damien had contracted leprosy. Despite this discovery, residents say that Damien worked vigorously to build as many homes as he could and planned for the continuation of the programs he created after he was gone.
Doctor Masanao Goto, a Japanese leprologist, came to Honolulu in 1885 and treated Father Damien. It was his theory that leprosy was caused by a diminution of the blood. His treatment consisted of nourishing food, moderate exercise, frequent friction to the benumbed parts, special ointments, and medical baths. The treatments did, indeed, relieve some of the symptoms and were very popular with the Hawaiian patients. Father Damien had faith in the treatments and stated that he wished to be treated by no one but Dr. Goto.
Dr. Goto was one of his best friends and Damien made his last trip to Honolulu on July 10, 1886, to receive treatment from him.
Damien engaged in a flurry of activity in his last years. While continuing his charitable ministrations, he hastened to complete his many building projects, enlarge his orphanages, and organize his work. Help came from four strangers who came to Kalaupapa to help the ailing missionary: a priest, a soldier, a male nurse, and a Religious Sister.
Father Damien died of leprosy at 8:00 AM on April 15, 1889, at the age of 49. The next day, after Mass by Father Moellers at St. Philomena's, the whole settlement followed the funeral cortège to the cemetery where Damien was laid to rest under the same pandanus tree where he first slept upon his arrival on Molokaï .
In January 1936, at the request of King Leopold III of Belgium and the Belgian government, Damien's body was returned to his native land. It was brought back aboard the Belgian sailing ship Mercator and now rests in Leuven, a historic university city close to the village where Damien was born. After his beatification in June 1995, the remains of his right hand were returned to Hawaii and re-interred in his original grave on Molokaï.