Saints Cosmas and Damian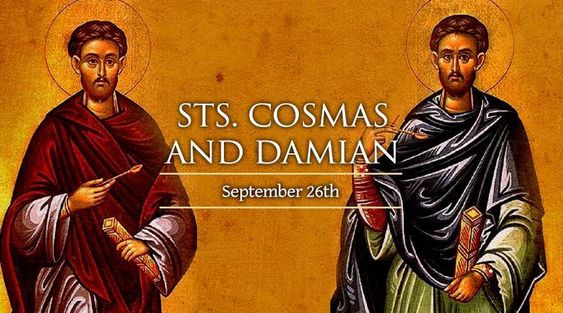 Feast day: September 26
Cosmas and Damianus were twin brothers, both physicians, who converted to Christianity. They lived in the third century AD.
They were active as doctors in the port city of Aegea (present-day Ayas in southern Turkey. They offered their services free of charge to the poor, converting many to Christianity through this selfless charity.
During the persecution of Christians under Emperor Diocletian, they were among the first victims. They were arrested and interrogated by the governor Lycias. After courageously testifying to their Christian faith, they were beheaded in 303. A church has been built over their tomb in Cyrrhus, Syria. From there their worship has spread to Rome and all over the world. Already in the 5th century they were much venerated. Pope Felix III (526-530) converted the Temple of Romulus at the Forum Romanum into a church dedicated to them.
Patron saints of: doctors, pharmacists and other medical professions.