Apparitions in Conyers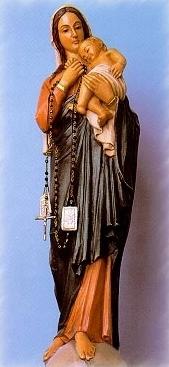 Georgia (USA)
Visions of "Mary" and "Jesus" have been appearing to Roman Catholics around the world. Often these visions are accompanied by prophecies about the Last Days, urging all men and women to love the Mother of God and submit themselves to her. The visions at Conyers, Georgia, USA have taken the same course as the ones at Fatima, Garabandal, Medjugorje and other places. They appear at regular intervals and various supernatural signs are manifested, including signs in the sun.
In February of 1987, Nancy Fowler of Conyers, Georgia, a middle aged housewife and mother, was in despair, but suddenly Jesus appeared to her in one silent apparition that changed her life. From October 13, 1990 through May 13, 1994, the Blessed Virgin Mary appeared to Nancy at a farm house in Conyers, Georgia to give a message for the United States.
A friend of Nancy is George. He is one of the helpers in Conyers; he writes down all the messages, while Nancy receives them. George is not a visionary. There are two other persons - one woman and a priest - whose name are not disclosed to the public who do not hear or see fully the apparitions but who are very important cause they see sometimes mystical lights and usually confirm partially what Nancy sees.
I now describe three important messages during the apparitions:
May 9, 1991:
Our Loving Mother asked, "Please photograph this statue and put the title: - Our Loving Mother - and distribute it freely to my children." (Our Loving Mother was referring to photographing the statue of herself in Nancy's prayer room to use for the holy card which would be titled: "Our Loving Mother"). Nancy said: "I think she wants on the back of the card the Fatima prayer and - Let this prayer be echoed all over the world - be written under it." "Photograph the statue here. Do not remove the statue. Let it (the card) be distributed far and wide. It will be called - Our Loving Mother -. On the back of the card you may put the location: Conyers, Georgia. Those who look upon this card and venerate my image will receive special graces. Many healings will be attributed to those who honor this picture. The picture is to be distributed widely, everywhere as - Our Loving Mother - and many healings will occur."
May 10, 1991:
"This image will bring many graces:" Our Loving Mother said. "Could I ask a question," George said. "Please tell us more about this image." Our Loving Mother responded through Nancy, "Yes, George, I will be glad to. Let me begin by telling you that even more graces will come through this image because it is the will of God that I be honored and accepted as your Loving Mother, as I am accepted and honored in Heaven as the Loving Mother of God. Sister Catherine was the instrument who was chosen by God to bring the Medal of the Immaculate Conception and you, Nancy, are the instrument chosen by God to give the world my image with the title, 'Our Loving Mother'. I implore you, do not delay in bringing this about. Many, many graces await mankind through this image." Nancy said, "A beautiful crown appeared above her head". "Let the holy card be struck with this image and the words 'Our Loving Mother' and on the reverse, the Angel's prayer of Fatima, 'Oh, Most Holy Trinity'. At the end of this prayer write these words, 'Let this prayer be echoed all over the world.'"
May 11, 1991:
Our Loving Mother appeared and Nancy tested the apparition by spraying holy water. Our Loving Mother said: "Oh what a refreshing shower of water." Nancy said: "Mother, it is great to see you". "You know what is greater is your obedience to test. I am your Loving Mother. I am Blessed Virgin Mary. You know nature is obedient to God. When you are obedient, God will give you many more gifts. It is the will of God that this image go all over the world. Let there not be a single nation that does not have at least one of these cards with this image. It is the will of God that I be honored as your loving mother. I am honored in Heaven, but I am not honored on earth. It is the will of God that my Immaculate Heart will reign and it is the will of God that I be honored as your loving mother. Honor and obedience go hand in hand. Reflect on these words."
During the May 13, 1994 apparition, the Blessed Mother said, "The purpose of my coming is to bring you to my Son." Since the May 1994 apparition, Jesus has been giving a teaching message at the apparition site on the 13th of each month. The only exception is for October 13 when the Blessed Mother has said that she will give an Anniversary message each year.. Nancy continues to receive private revelations on a daily basis.
Thousands of people come to the farm on the 13th of each month. In November of 1993, the estimated number of people was well over 100.000. Nancy is proven to be in a supernatural state when having apparitions, by scientific testing. The graces at Conyers are for all people, not just Catholics. Many Protestant Christians experience healings and conversions, and return to give thanks to Jesus and the Blessed Mother. There are many signs witnessed by people at Nancy's farm at Conyers. Some of the sign are unexplainable. The Heavenly scent of roses, Rosaries turning golden in color, many many people have witnessed the " miracle of the sun ", statues of Our Blessed Mother shedding tears, mystical auras of light around statues and crosses, and people's medals around their necks turning gold are but to name a few.
The apparitions of the Blessed Virgin Mary stopped in October 13, 1998 but Nancy still have apparitions of Jesus, visions and messages and the newest are published in her official web site.
Despite all this, the official Church position on Conyers has remained cautious. The Church has not authenticated the apparitions and has asked that priests not lead pilgrimages to Conyers or offer Mass at Conyers, Nancy Fowler, always a loyal Catholic, has agreed to follow the decree of the Church – but nevertheless, she insists that the miracles and visions continue. Is something miraculous happening at Conyers or is it just a case of desperate people longing for a hopeful sign? No one can say for sure. The only thing that is certain is that the people who believe in Conyers say it has changed their lives and made them happier – and that alone cannot be discounted.
The Archdiocese of Atlanta has at least seven file boxes of testimonies from pilgrims of healings, conversions and other blessings. A number of people reported having apparitions at the site. The primary visionary associated with Conyers was Nancy Fowler, a Western (i.e., a Roman or Latin) Rite Catholic under the Archbishop of Atlanta. In 1991 the Archbishop of Atlanta, James Lyke, established the Western Rite Archdiocese's policy on the apparitions that was a neutral policy which remains to this day: "Leave them alone, for if this plan and work of theirs is a man-made thing, it will disappear; but if it comes from God you cannot possibly defeat them."
Donoghue The current Archbishop of Atlanta, John Donoghue, has maintained this neutral policy based on Acts 5:38-39 but he noted in 1994 many reports of good fruits at the apparition site: "People are praying. People are coming back to church who hadn't been in a church for a long time. People's faith is restored. Conversions are taking place." Since Ms. Fowler is a member of the Western Rite of the Catholic Church, the Archbishop of Atlanta has the primary responsibility to investigate the authenticity of her alleged apparitions. As recently as April 2001, the Archbishop has stated that he had no plans to begin an investigation.
Nancy Fowler, "the Visionary of Conyers", passed away on Jan 10, 2012, at 11:50pm at the age of 63.
In Conyers, Georgia, the Blessed Mother, Our Loving Mother, asked:
"Let this prayer be echoed all over the world"
Angel of Peace Prayer from Fatima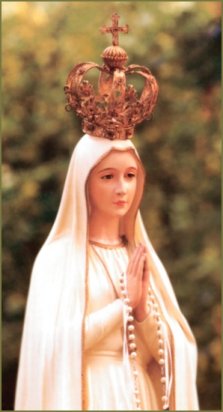 "Most Holy Trinity - Father, Son and Holy Spirit - I adore Thee profoundly. I offer Thee the most precious Body, Blood, Soul and Divinity of Jesus Christ, present in all the tabernacles of the world, in reparation for the outrages, sacrileges and indifferences whereby He is offended. And through the infinite merits of His Most Sacred Heart and the Immaculate Heart of Mary, I beg of Thee the conversion of poor sinners."
Amen