Saint Catherine of Genoa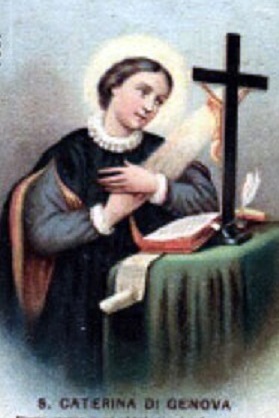 1447 - 1510
Memorial: September 15
Saint Catherine of Genoa, original name Caterina Fieschi, born in 1447 in Genoa, Italy; died on September 15, 1510 in Genoa, Italy; canonized 1737; the Italian mystic admired her work among the sick and the poor. She was an Italian mystic admired for her work among the sick and the poor.
Catherine's parents were members of the nobility in Genoa. At 13, she attempted to become a nun but failed because of her age. At 16, she married Julian, a nobleman who turned out to be selfish and unfaithful. For a while she tried to numb her disappointment by a life of selfish pleasure.
One day in 1473 she visited the convent where her sister was a nun, and there went to confession. That confession was a turning point in her life. In her sadness and desperation she had turned to God; and He now filled her soul with a large measure of grace, making her realize vividly her own sins and inflaming her heart with seraphic love.
Saint Catherine of Genoa began to receive holy Communion every day, and continued to do so for the rest of her life. She entered upon a most intense spiritual life. After reforming herself, she converted her husband, and then lost herself in service to the poor and the sick.
She combined this with unselfish service to the sick in a hospital at Genoa, in which her husband joined her after he, too, had been converted. He later became a Franciscan tertiary, but she joined no religious order. Her husband's spending had ruined them financially. He and Catherine decided to live in the Pammatone, a large hospital in Genoa, and to dedicate themselves to works of charity there. She eventually became manager and treasurer of the hospital.
She died in 1510, worn out with labours of body and soul. Her death had been slow with many days of pain and suffering as she experienced visions and wavered between life and death.
Beatification and canonization
Catherine's writings were examined by the Vatican's Holy Office and pronounced to contain doctrine that would be enough, in itself, to prove her sanctity, and she was beatified in 1675 by Pope Clement X, and canonized in 1737 by Pope Clement XII. Her writings also became sources of inspiration for other religious leaders such as Saints Robert Bellarmine and Francis de Sales and Cardinal Henry Edward Manning. St Catherine of Genoa's liturgical feast is celebrated on 15 September. Pope Pius XII declared her patroness of the hospitals in Italy.