Saint Blaise of Sebaste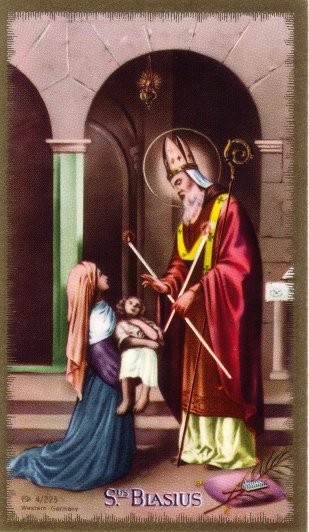 Bishop and Martyr († 316)
Also known as: Biagio; Blase; Blasius
Feast day: February 3
Many Catholics might remember Saint Blaise's feast day because of the Blessing of the Throats that took place on this day. Two candles are blessed, held slightly open, and pressed against the throat as the blessing is said.
The legend of St. Blaise tells us that he was born into a rich and noble family who raised him as a Christian. He became a bishop in Sebaste, Armenia in the early fourth century. Not much is known about him, but there are many legends and stories that tell us what the times were like. It was a time of persecution for the Catholic Church. The Roman empire was trying to get rid of the Christians.
In 316, the Roman Emperor Licinius withdrew from his position of tolerating Christians, and started again to persecute them. Many faithful were martyred because they would not give up their love and faith in Jesus Christ. After this edict had been promulgated, Blaise, counseled by God, fled to the mountains and lived in a cave. There his only company was the wild animals; but the gentle bishop soon made friends with them, healed their wounds, and blessed them. But when the emperor's hunters, bent on collecting wild animals for the royal games, discovered him in this cave and took him as prisoner. St. Blaise was brought before Agricolaus for further questioning and was whipped while tied to a pillar.
According to one story (there are several versions of this), when Blaise was being led to the arena to be executed, he saw among the bystanders lining the streets a boy who had been eating his lunch and was choking on a bone. Blaise darted past his guards, ran to the boy, administered the Heimlich maneuver or whatever, and saved his life. He then returned quietly to his guards and was led to his death by beheading. He is accordingly associated with throat problems.

The veneration of the saint was brought at an early date into Europe, as is shown by the recitals in the historical martyrologies of the ninth century; so that Blasius became one of the most popular saints of the Middle Ages.
Patron: of Throat Illnesses
Prayer in honor of St. Blaise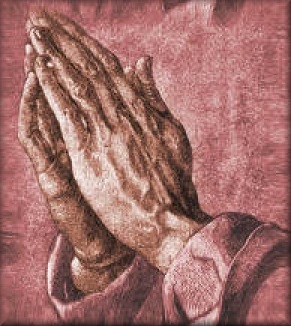 O God, deliver us through the intercession of Thy holy bishop and martyr Blase,
from all evil of soul and body, especially from all ills of the throat;
and grant us the grace to make a good confession in the confident hope of obtaining Thy pardon,
and ever to praise with worthy lips Thy most holy name.
Through Christ our Lord.
Amen.