Black Scapular of the Seven Sorrows of Mary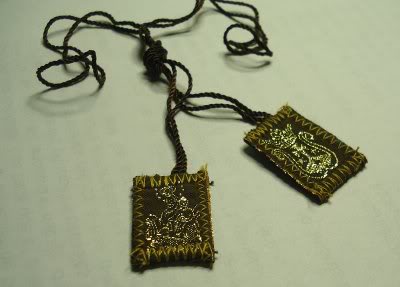 The Black Scapular
In 1255, Pope Alexander IV instituted the Order of the Servites of Mary and they developed a significant number of followers devoted to Mary's seven sorrows. This next was organized in the Brotherhood of the Seven Dolours of Mary, and affiliated with the Servites. Members of this Brotherhood later wore a scapular which was supposed to be of black cloth, as is the custom of the order.
In 1611, the Brotherhood and the Black Scapular of the Seven Dolors of Mary received indulgences from Pope Paul V.
Nothing is prescribed about this scapular, but the front usually has an image of Our Lady of Sorrows. This scapular must be worn all the time if one is to obtain the Brotherhood indulgences approved by the Congregation of Indulgences in 1888.
Priests can obtain from the General of the Servites the ability to receive the faithful into the brotherhood and to bless and invest with the Scapular.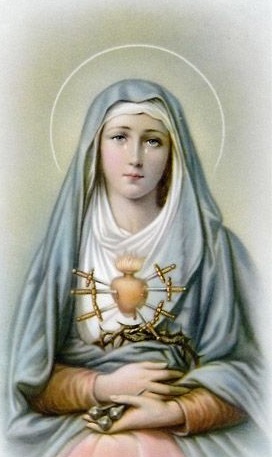 This scapular is the symbol of the Brotherhood of Our Lady of Sorrows, a body of the Catholic faithful associated with the Order of the Servites of Mary. The purpose of this order is to promote devotion to the suffering of Jesus Christ and the sorrow of Our Lady. In the case of most devotional scapulars, there are some regulations regarding decoration or design. In the case of the black scapular, there are no such regulations, except that it is black woolen cloth
The Brotherhood began to develop in the 13th century, shortly after the establishment of the Servite Order in 1223. Lay groups who wanted to share in the life and spirit of the monks moved to areas around the Servite monasteries. In 1374 the Prior General of the Order declared that the members of these groups were members of "their Order" and allowed them to participate in the spiritual merit of the Order. Little changed in the ascension unification of Pope Paul V, who in 1607 issued new regulations regarding the order of brotherhoods that existed at the time. It was at this point that the well-known small devotional textile scapulars began to become the symbol of brotherhoods associated with religious orders. The Brotherhood, as it stands today, was officially designated in 1645 by Pope Innocent X.
Any baptized person who is willing to perform the obligations set forth by the Order can be registered. These obligations are to wear the black scapular, pray for 15 minutes daily for the entire Servite Order and the Church (the Rosary of Seven Sorrows is recommended) including at least one "Hail Mary", one "Hail Holy Queen" and performed if possibly some kind of merciful work to those who suffer physically, mentally, or mentally. The benefits of membership are participation in the life of the Servite Order as well as a share in all their works and prayers and an opportunity to deepen one's understanding of the life of Christ and His Holy Mother.