Saint Beatrice of Silva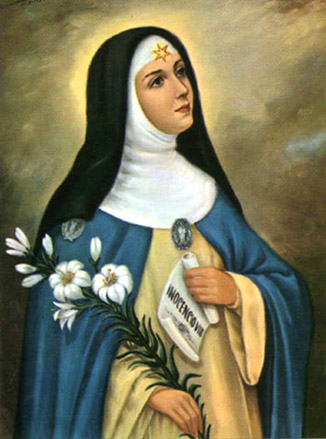 1424 - 1490
The Blue Scapular of the Immaculate Conception
Memorial: 17 August (1 September by the Franciscan Order)
Also known as: Brites; Beatrix da Silva; Beatriz da Silva
Saint Beatrice da Silva Menezes was born in Ceuta, Portugal, in 1424. She was the daughter of the Count of Viana and the sister of Saint Amedeus of Portugal. She spent most of her life as a courtier at the royal court of Princess Isabel and accompanied her to Castile when she married John II of Castile. Evenually, she tired of court life and entered the Cistercian convent in the city of Toledo and dedicated the rest of her life to God.
Around 1484, When she was 60 years old, Beatrice left the Cistercians and founded the Congregation of the Immaculate Conception of the Blessed Virgin Mary. With the help of Queen Isabel, who funded the start of the new order, Beatrice established a house near the city of Toledo in the castle of Galliana, and spent the final six years of her life working with the women who joined the order.
She died 1 September 1490 at Toledo. After Beatrix's death, Cardinal Cisneros gave the sisters the rule of Saint Clare (Benedictines). Saint Beatrice da Silva Menezes was beatified 1926 by Pope Pius XI and canonized 1976 by Pope Paul VI. The life of St. Beatrice reminds us of how important it is for us to be always open to God's designs in our regard, and to pray that his will be done.
Patronage: prisoners
The Blue Scapular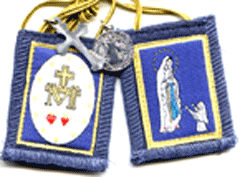 The Blue Scapular originated in Spain is connected with the person of Saint Beatrice da Silva Menezes.
One of the requirements of the Rule of Life for this order of the Immaculate Conception was to wear the Scapular (The Blue Scapular) beneath the Order's white habit. The growing popularity of this form of devotion to Mary among the faithful encouraged the Conceptionist Sisters to approach the Holy See with the request for special indulgences and privileges for all those who piously wore their scapular.