Archangels (Saints)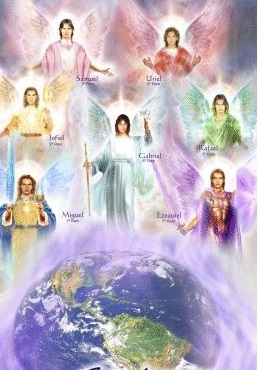 Feastday Saints Michael, Gabriel, And Raphael: September 29
The Archangels are magnificent spiritual beings who vibrate with an incredible light and frequency. Each Archangel illuminates specific attributes and qualities of Creator, God, and of All That Is through the immense Divine Light and love they carry.
Description
Michael and Gabriel are recognised as archangels in Judaism, Islam, and by most Christians. The Book of Tobit—recognised in the Catholic and Orthodox Bibles, but considered apocryphal by Protestants—mentions Raphael, who is also considered to be an archangel. The archangels Gabriel, Michael, and Raphael are venerated in the Roman Catholic Church with a feast on September 29 (between 1921 and 1969, March 24 for Gabriel and October 24 for Raphael), and in the Eastern Orthodox Church on November 8 (if the Julian calendar is used, this corresponds to November 21 in the Gregorian). The named archangels in Islam are Gabriel, Michael, Israfil and Azrael. Jewish literature, such as the Book of Enoch, mentions Metatron as an archangel, called the "highest of the angels", though the acceptance of this angel is not canonical in all branches of the faith.
Some branches of the faiths mentioned have identified a group of seven Archangels, but the actual angels vary, depending on the source. Gabriel, Michael, and Raphael are always mentioned; the other archangels vary, but most commonly include Uriel, who is mentioned in 2 Esdras.
In Zoroastrianism, sacred texts allude to the six great Amesha Spenta (literally "Bounteous/Holy Immortals") of Ahura Mazda.
Roman Catholic
Gabriel, Michael and Raphael, depicted in stained glass in St Ailbe's Church, a Catholic church in Ireland
In Roman Catholicism, three are honored by name:
The last-named of these identifies himself in Tobit 12:15(NAB) thus: "I am Raphael, one of the seven angels who stand and serve before the Glory of the Lord."
The Fourth Book of Esdras, which mentions the angel Uriel, was popular in the West and was frequently quoted by Church Fathers, especially Ambrose, but was never considered part of the Catholic biblical canon.
The Catholic Church gives no official recognition to the names given in some apocryphal sources, such as Raguel, Saraqael and Remiel (Book of Enoch) or Izidkiel, Hanael, and Kepharel (other such sources).