Newsletter Marypages 2022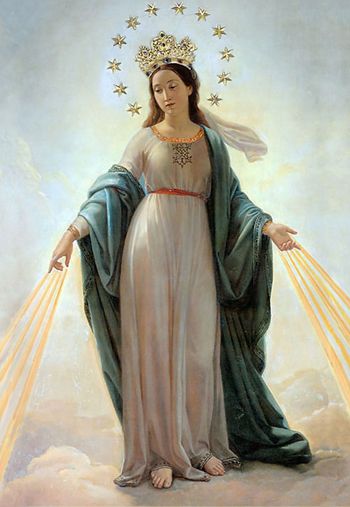 Chairman's message
Dear donator,
We thank all donors for their financial support over the past year. Thanks to your support, Marypages was able to continue to exist. For donors who want to support us again this year with a donation of at least 50 euros, we have again a beautiful miraculous medal and a choice of two types of rosaries, namely a black/blue mother-of-pearl and a transparent mother-of-pearl. Both from Lourdes, with a detailed description.
The rosary contains some holy water from the spring in Lourdes. In the month of May, Mary month, we will make a beautiful prayer and/or a reference to a Mary page on Facebook every day. Of course a donation remains very welcome and without obligation, but to secure the future of Marypages, we remain dependent on your donations. We trust that we can continue to count on everyone who cares about Marypages, so that we can continue to achieve our goals.
You can safely donate via our donation module or directly into our bank account (see below).

Social function
Marypages has paid a lot of attention to corona over the past year, including a special page about the holy Corona and a lot of corona prayers to give support. We have also offered our donors and followers the opportunity to have a prayer read by a priest at the Maria cave in Lourdes through us for a donation of 10 euros and also to support this prayer by burning a candle with Mary.
Because we (chairman, secretary, treasurer, so-called ubo's) have control over an organization, we were obliged, just like more than 1.5 million organisations, to register in the UBO register at the Chamber of Commerce. The deadline to register for this was March 27, 2022. We did this well in time. The UBO register helps you to do business fairly, and also contributes to a safer society.
Why is May the Month of Mary?
For centuries, the Catholic Church has set aside the entire month of Mary to honor Mary, Mother of God.

Future and developments Marypages
Marypages currently has 5,600 followers on Facebook. Every day on Facebook we list the prayer of the day, anniversaries of saints, anniversaries of pilgrimage sites, feast days of the Blessed Virgin Mary, Catholic holidays, prayers and many beautiful images of Mary. This year we also paid extra attention to the week of suffering. New pages are added regularly and pages that are already available in Dutch and English are also translated into the other 9 languages of Marypages. For example, in the last year at least 50 pages have been added to Marypages. More attention will also be paid to Marypages' Instagram account.
Canonizations in 2022:
On November 9, 2021, the cardinals and bishops, who are members of the Congregation for the Causes of Saints, adopted a positive decision in their ordinary meeting regarding the canonization of Titus Brandsma. On November 25, 2021, Pope Francis recognized the miracle attributed to Brandsma: the healing of Father Driscoll. The canonization celebration will take place on Sunday, May 15, 2022 at the Vatican in Rome.
Beatification in 2022:
Pope John Paul I will be beatified on September 4, 2022.
Three ways to pray to Mary:
1. Hail Mary and the Rosary
2. Praying with the words of Mary
3. Meditate on Mary