Feast day of the Holy Family
Feast day of the Holy Family - Sunday December 26
Roman Catholic religious festival falling on the first Sunday after Christmas. The shepherds hastened to Bethlehem, where they found Mary and Joseph, and the baby lying in a manger. (Luke 2:16 - Entrance Antiphon)
The Feast of the Holy Family is a liturgical celebration in the Catholic Church in honor of Jesus of Nazareth, the Blessed Virgin Mary and His father, St. Joseph. It was first inserted into the annual liturgical calendar by Leo XIII in 1893 and observed on the third Sunday after Epiphany. When Pius X revised the Missal, the feast of the Holy Family was suppressed. Then, in 1921, Pius XI put it back into the calendar to be celebrated on the first Sunday after Epiphany. In the liturgical reforms that followed Vatican II, it was reassigned to the Sunday after Christmas.
But there is much more to it than that. In Jesus, God unites himself to an entire human nature. He fully enters into human experience, with all its peaks and valleys. And a part of that human experience, with more than its share of peaks and valleys, is family.
Prayer to the Holy Family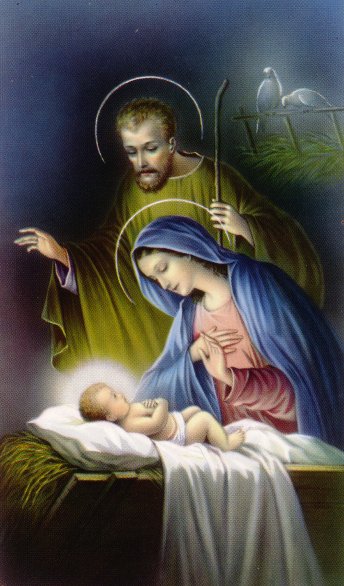 Sweet Jesus, You were born in a stable to become divine light in a dark, sinful world. Your little holy family was full of love, grace, kindness, and generosity. I ask Mary and Joseph to pray for my family to grow in the virtues that spring from unconditional love. I also ask them to pray for the growth of our faith. O Savior, increase our unity and give us a shared devotion to Your Holy Family. Purify me and teach me to identify my sins and change my ways so that Your light increases within me. Show me how to let Your light shine so brightly that my family sees You and is transformed by Your presence. Holy Family, pray for us.
Amen.