Eremo Di Calomini (Vergemoli)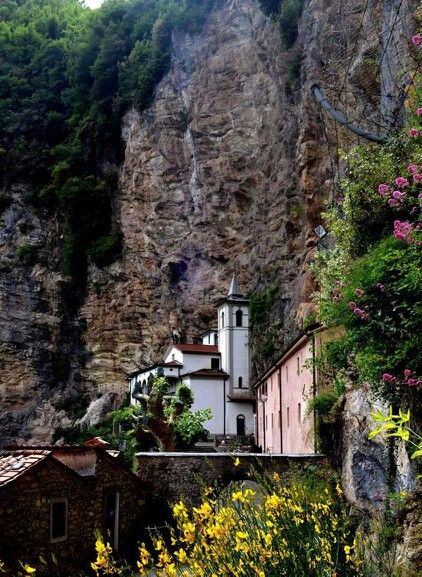 Eremo di Calomini, A place of silence and reflection for those who are looking for a breather during their holiday in Tuscany.
The hermitage of Calomini is an evocative architectural complex located at the foot of a large overhanging wall about 70 meters high, it is built into the rock for 15 meters.
The once simple church was converted into a true showpiece in the 17th century. The double facade was placed there in the 18th century.
This hermitage juts out of the very high rocks of the mountain that houses the church's sacristy and much of the monastery. From the main church, decorated in eighteenth-century style, you enter the sacristy, the original core of the prayer room, which was decorated in the seventeenth century with beautifully carved furniture. From here, the visit continues in the old kitchen and in the cells of the brothers, also dug as the sacristy. There are many legends surrounding the foundation of this shrine, usually linked to the image of the Virgin who is venerated there.
This place, where time has not changed the peace and quiet it distinguishes. Pilgrims have been visiting it for centuries as a place of faith and prayer, but if your spiritual orientations differ, it is still worth including it in your itinerary. The beauty of this old hermitage and the surrounding nature will give you wonderful emotions.
The Calomini Hermitage is located in Garfagnana, the green valley of Northern Tuscany between the Apuan Alps and the Tuscan-Emilian Apennines. The Hermitage is located in Vergemoli (Lucca) in the municipality of Gallicano, close to other interesting destinations such as beautiful Lucca (41 km), Barga (10 km) and its caves, the beautiful village of Coreglia Antelminelli (18 km) and Bagni di Lucca (22 km).
Eremo Di Calomini has the following opening hours:
• Sun - Sun 2:30 pm - 6:00 pm
• Sat - Sun 09:00 - 12:00
• Sat - Sat 2:30 pm - 7:00 pm
The story behind it:
Construction of the sanctuary began in the year 1000 after a local girl saw the Madonna's apparition. She saw the image of the Madonna in a piece of willow wood that is still revered today: called the Madonna Della Penna.